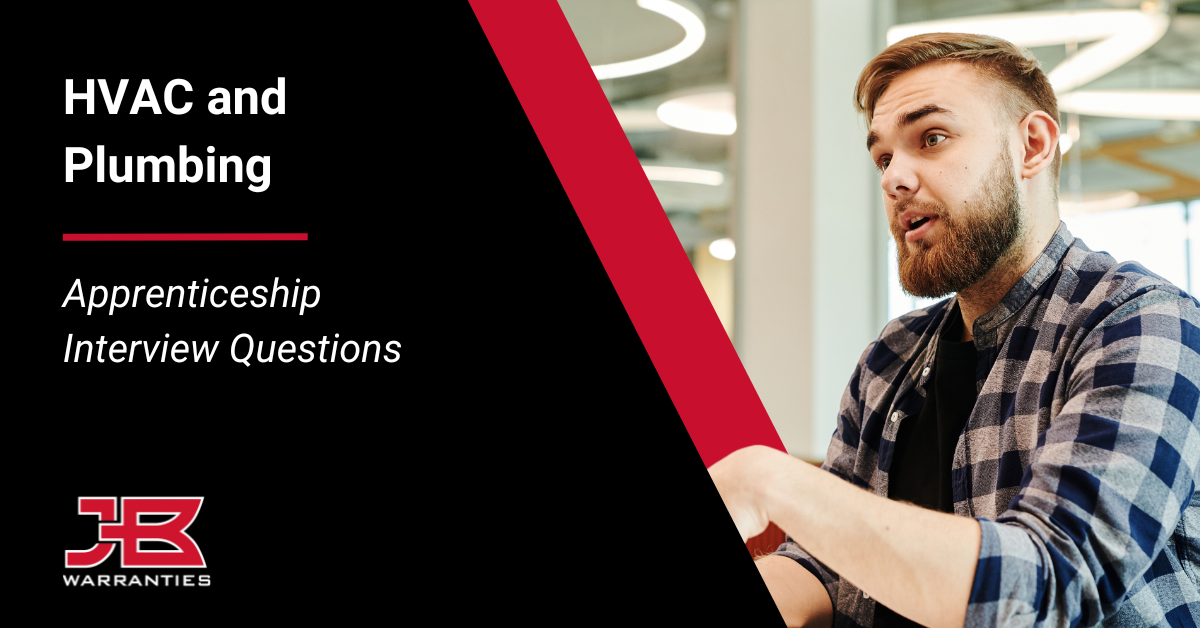 Now, more than ever, plumbing and HVAC companies require qualified talent capable of sustaining customer demands and scaling alongside their operations long term. Roughly 77% of tradespeople have reported labor shortages as an ongoing challenge due to various factors, the most prevalent of which are aging employees and a loss of interest among younger generations.
With HVAC and plumbing hiring more complex in recent years, contractors must optimize their apprenticeship interview process to help nail down quality candidates who want to enter the field and remain in it. By using the right apprentice interview questions, HVAC and plumbing employers can gather critical applicant details to make more well-calculated hiring decisions.
Keep reading to learn more about what to expect from apprenticeship interviews and eight common interview questions to consider when searching for new talent to join your team.
What to Expect from an HVAC or Plumbing Apprenticeship Interview
Before navigating your apprenticeship job interviews, it's important to understand precisely what to expect from an HVAC or plumbing apprenticeship. Across the trade industry, business owners offer apprenticeships as a means for rising professionals to jumpstart their careers and train alongside veteran professionals who can guide them toward the 'journeyman' technician status.
Employers must be mindful that many apprentice applicants are either recent technical college graduates or have minimal industry experience, meaning your interview questions will focus less on traditional hard skills. However, remember that apprentices are also often highly driven individuals dedicated to growing alongside your business, which creates great opportunities for employers looking for talent they can train to their operational standards.
So, it may be wise to cater your interview questions to an applicant's desired future trajectory within the HVAC or plumbing field. Alongside the traditional questions about an applicant's current skill set or experience level, you'll also want to gauge what drew them to your job description. For instance, is journeyman their ultimate goal, or do they want to own their own business one day?
Top 8 Apprenticeship Interview Questions for HVAC and Plumbing Operators
When looking to onboard an apprentice, you may want to move away from your traditional line of hiring questions to focus more importantly on what the prospect could offer your business as they learn and grow. Here's a look at the eight most common interview questions for apprentices.
1. "What are your overall apprenticeship goals?"
To help kick off the interview, you can start by addressing an applicant's overall apprenticeship goals. Allowing the applicant to lay out their long-term career goals can help you define the level of effort and dedication they may be willing to put into the opportunity you're offering. Uncertain answers to this common question may signal a potential lack of commitment and enthusiasm, which could ultimately hurt your operation in the long run.
2. "What do you consider to be the ideal workplace for reaching your apprenticeship goals?"
Considering their overall goals, employers should follow up by asking the applicant to define their ideal workplace for reaching said goals. This apprenticeship interview question can help contractors gauge whether or not their company culture, capacity, and capabilities match the given needs of an applicant. Always respond honestly with any concerns of limitations while educating applicants on the pay, workplace culture, and learning opportunities you can offer.
3. "Tell me about your previous education and work experience."
As mentioned, apprentices are often fresh out of trade school and offer minimal professional experience. However, prospective HVAC or plumbing apprentices should still be able to describe their top learning achievements, any hands-on work they have completed, and any past employment history. Unrelated work history can even help define an individual's level of professionalism, customer service experience, and track record of working in a team setting.
4. "Can you describe your level of comfortability with industry tools and management software?"
While trade school offers its fair share of hands-on experience with various industry tools and solutions, applicants may not be proficient with every software or operational process you follow. Understanding an applicant's comfort with industry tools, equipment, and software solutions, such as field service management programs, enables you to better understand what the apprentice will need to be trained on and the required level of effort.
5. "Provide me an example of when you used your personal skills to problem solve."
With this apprenticeship interview question, you give the applicant an opportunity to elaborate on the experiences above. With the HVAC and plumbing industry being built on providing solutions, responses to this question should be able to demonstrate strong problem-solving skills and thinking. Whether it was a school project or simply fixing a plumbing fixture in their own home, focus on those who can walk you through their processes in detail to identify quality candidates.
6. "Elaborate on a time when you encountered a customer issue and what you did to resolve it."
Outside of using technical skills to physically solve a problem, HVAC and plumbing apprentices will also need to effectively navigate situations of unhappy customers or general customer concerns. This apprenticeship interview question allows an employer to gauge an applicant's customer service strengths in the event of a negative customer situation and determine if they could potentially impact their company's reputation—and overall customer satisfaction rating.
7. "How would you approach a hazardous scenario to ensure complete safety?"
From workplace injuries to water heater gas leaks and HVAC chemical exposures, there are a variety of hazardous situations apprentices can find themselves in that will require a quick response. Using mock examples, ask an apprentice how they would approach a hazardous situation to ensure personal, customer, and team member safety. This will help determine if any safety training will be required when bringing on the apprentice to preserve workplace safety and prevent legal risks.
8. "Will you agree to a background check, drug test, or provide proof of a driver's license?"
In support of business longevity and reputation, you must have the confidence you are making safe and secure hiring decisions with each employee. Since apprentices are expected to continuously represent your business positively, applicants should undergo pre-employer drug and background screenings and provide proof of driver's license. Applicant screenings can help uncover underlying concerns that could be a cause for future safety or legal risks to your company.
Equip New Hires with Profit Driving Solutions from JB Warranties
Once you've completed interviews and navigated the steps to bring on a qualified apprentice, now is the time to begin educating them on your day-to-day processes. In part of your sales efforts, inform new hires on the importance of offering JB Warranties Premium Protection Plans, so service customers can gain reliable extended coverage for all major brand HVAC and plumbing equipment.
Reach out today to learn just how simple JB Warranties makes extended warranty claims for contractors and how our services can be used to further drive your company profits!

Tommy Cue
Vice President of Strategic Partnerships at JB Warranties