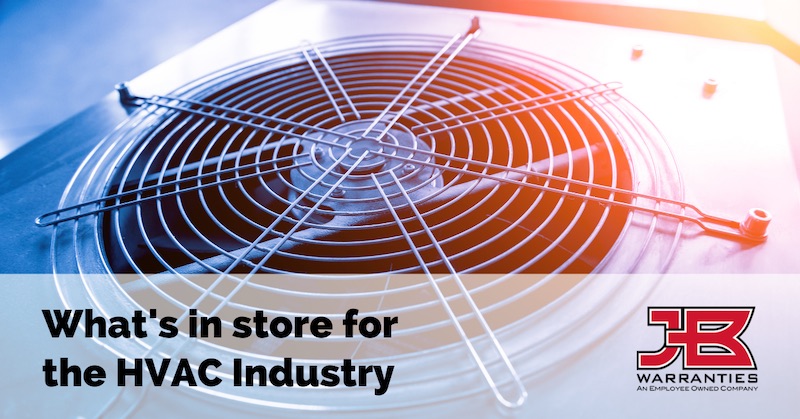 The past two years have forced every industry to navigate countless operational restrictions, delays, and shutdowns induced by the COVID-19 pandemic. Although still present, the ramifications of the pandemic have finally begun to subside — along with the restrictions on businesses. Now, those in the HVAC industry are gearing up to return to pre-pandemic performance levels.
As outlets like ACHR news continue to provide updated coverage, JB Warranties has gathered the most recent predictions to bring our readers the 2022 HVAC industry outlook. Keep reading to learn more about ongoing industry impacts that could affect your HVAC operation and the opportunities (and risks) you'll want to pay attention to as the ramifications of the pandemic decline.
The Current State of the HVAC Industry
Despite frustrating global supply chain issues and heightened local regulations surrounding the pandemic, the HVAC industry has maintained some pretty solid key performance indicators (KPIs) throughout both 2020 and 2021. This performance is due to many consumers investing in upgraded HVAC and air quality systems due to ongoing COVID-19 concerns.
Heating, Air-Conditioning, & Refrigeration Distributors International (HARDI) reported a 23.6% increase in overall sales in 2021, following an already strong year in 2020. Likewise, the Air-Conditioning, Heating, and Refrigeration Institute (AHRI) also reported a 9.3% increase in the central air conditioners and air-source heat pump shipments from 2020 to 2021.
While heavy increases in sales are great news for HVAC retailers, it's important to note that these strong sales can be attributed to increased demand and hefty price hikes in equipment and materials. Ongoing HVAC material and equipment price hikes come in part with persistent supply chain disruptions and manufacturing delays due to lasting COVID-19 implications across the globe.
Fortunately, as HVAC manufacturers face fewer setbacks in 2022, production efforts have been able to ramp up and meet the ongoing booming demand. But as pandemic slowdowns dwindle, recent Russia-Ukraine geopolitical tensions are now creating a new source of stress on the global supply chain, as many raw material exports come from this region.
Expected HVAC Industry Opportunities in 2022
Though not everything is smooth sailing yet, that doesn't mean that the HVAC industry isn't rampant with opportunities now. With COVID-19 recently shifting consumer interest and demand throughout the HVAC industry, professionals are seeing unprecedented demand from both the private and public sectors — the challenge is just meeting that demand.
HVAC professionals should be aware of these 2022 trends to prepare for the months ahead.
IAQ Technology and Service
In recent years, the enormous spike in infection concerns has created an explosive demand for Indoor Air Quality (IAQ) technology and services. From simple residential air filtration systems to large-scale industrial Dedicated Outside Air Systems (DOAS) installations, numerous IAQ technologies have become more readily available to help reduce the indoor spread of airborne infectious pathogens, including COVID-19.
Between public schools and hospitals and even typical single-family residential homes, the demand for IAQ technology and service shows no sign of slowing down throughout any sector in 2022. No matter what sort of HVAC operation you run, it would be wise to look into the retailers who can help you access these solutions now as demand continues. You may encounter ordering delays with ongoing supply chain disruptions, so stay one step ahead.
Electrification and Environmental Focus
While the spike in demand for IAQ services and technology has only been a more recent occurrence, one thing for sure is that the push for more eco-friendly and sustainable HVAC solutions has been a conversation for decades now. As this trend continues to push forward, HVAC industry professionals must keep an eye out for trending interests in HVAC electrification.
With many classic customer heating options relying on fossil fuels, consumers hope to ditch this trend for a more environmentally-focused alternative. Electric solutions such as heat pumps solely use electricity to create heat and eliminate the use of traditional gas heating. To support this electrification trend, the Department of Energy created the Cold Climate Heat Pump Challenge, which nationally advances the development of heat pump technology.
HVAC Industry Concerns to be Aware of in 2022
With the demand for IAQ services and interest in electrification trends in 2022, you may be ready to move quickly on your next HVAC business plan. First, however, you must note that ongoing industry slowdowns are far from gone. So here are the top ones to keep an eye out for in 2022.
Supply Chain Interruptions and Increased Material Cost
As you are probably well aware, supply chain issues have been an ongoing issue for the past two years. While experts believe the issue will continue to lessen throughout 2022, HVAC professionals should anticipate slowdowns for the time being and plan accordingly with distributors. Supply chain delays are fueled by numerous factors, including labor shortages, logistical constraints, computer ship shortages, and global political tensions.
With supply chain disruptions have also come price increases. Exports of raw materials, including crude oil and various metals, have become harder to access and produce, driving up the cost to transport HVAC-required materials. Additional supply chain issues, such as ongoing computer chip shortages, have also pushed large HVAC equipment manufacturers like Lennox and LG to increase their prices.
New State and Federal Regulations
State and federal regulations surrounding the HVAC industry have experienced several changes lately that have some professionals worried. At the start of 2022, pending federal vaccination mandates worried many business owners facing ongoing labor shortages. However, these have for now fallen through at the national level and are no longer pending.
There has been a significant push by state and federal governments to adopt heavier practices of decarbonization. While great for the environment, many HVAC business owners worry that limiting fossil fuel-based HVAC services would not only limit them as a business but also hurt their customers, as many carbon-free HVAC solutions sit at the higher end of the price scale.
Though many HVAC companies are here for eco-friendly adoption, they hope to not be limited and ensure the demands of a broad customer base can be met.
Navigate Your 2022 Business Year with Ease
By now, you've probably gotten accustomed to hearing about the countless pandemic-related impacts businesses are facing across the globe. However, as we continue to work our way through 2022, it should be safe to say that you'll see things begin to loosen up. As you address the trends and concerns above, head to the JB Dealer Services Marketplace for tools that can help streamline your day-to-day processes and help navigate the 2022 business year with ease.

Brian Bohannan
Vice President of Sales at JB Warranties