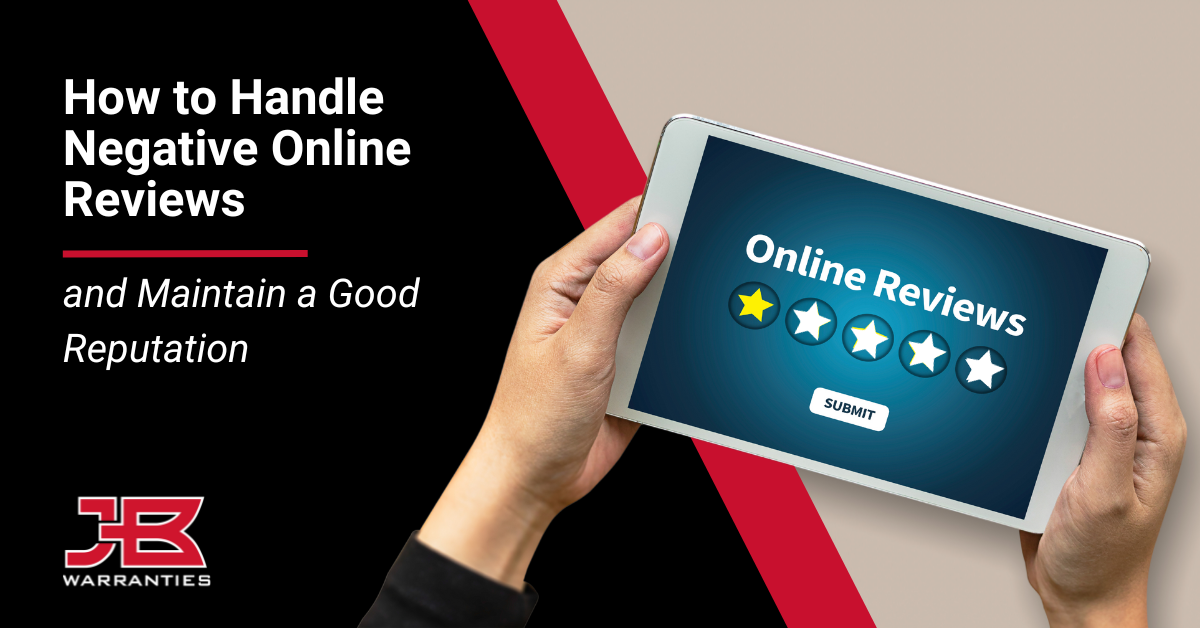 Did you know that nine out of ten consumers turn to an online review site before making a purchase or moving forward with a professional service? As an HVAC or plumbing business owner, you depend on positive online reviews to power your long-term success and reputation. However, no business is perfect, and it's not uncommon to find a negative review in the sea of positive feedback.
From bad experiences to outright fake reviews, many instances could lead to negative online reviews. Fortunately, with a few best practices, HVAC and plumbing operators can more effectively handle negative feedback to not only quickly correct any looming service concerns but also conserve a solid brand image and reputation. Luckily, you've come to the right place to learn them!
Keep reading to learn more about the impact of negative online reviews, the top review sites to monitor, and the top five best practices all owners should follow when addressing bad reviews.
How Can Negative Online Reviews Impact Your HVAC or Plumbing Business?
Never be so naive to assume that negative reviews have no business impact. For the health and longevity of your HVAC or plumbing operation, it's important to understand the effect negative online reviews can have on your company. According to a consumer study, roughly 86% of customers are hesitant to purchase from companies with a collection of negative online reviews.
While a few stand-alone negative customer reviews won't set your company back too badly, multiple bad reviews can begin to impact your overall rating across review sites like Google, Yelp, and Angi. As your customer rating decreases, so will your search engine ranking, which leads to poor company discoverability and less chance of potential customers easily locating your company listing.
Negative online reviews can also weigh heavily on your company's overall reputation and reliability, which can ultimately impact your long-term profitability. To avoid the various consequences of negative online reviews, businesses must remain proactive in addressing each and every review, as well as addressing any internal operational issues that could be impacting customer satisfaction.
Top 3 Websites to Obtain (and Monitor) Real Online Reviews
Across the web, there are many sites where customers can write online reviews following either a positive or negative experience with a business. Google, Yelp, and home service directories are the three review site options trade businesses should routinely interact with (and keep an eye on).
1. Google
With 59% of consumers using it to assess online reviews, Google is by far the most popular review platform for any sort of business. Optimizing your Google business profile allows potential customers to easily locate your business location, contact details, services, and of course, customer feedback with a simple search. To improve your local ranking and support online visibility, it's important to routinely review and reply to all Google reviews and consistently refresh your listing.
2. Yelp
From restaurants to home services, Yelp is another leading online review site many customers turn to when settling on purchase decisions. Similar to Google, a company's Yelp ranking relies heavily on the frequency, amount, and diversity of customer reviews and individual responses a Yelp business page generates. In support of your Yelp platform visibility, it's essential to optimize your business listing with up-to-date information for your contact details, website, hours, and location.
3. Home Service Directories
Home service directories are online review platforms unique to trade businesses. These online directories are often searched by those on the hunt for highly-rated and reliable home service providers, including HVAC, plumbing, electric, and solar professionals. Angi, HomeAdvisor, and Thumbtack are some of the more popular home service directories, where service providers can advertise their business and build reputability through customer reviews and responses.
Best Practices for Dealing with Negative Reviews and Maintaining Company Reputation
With an understanding of where customers can leave reviews regarding your HVAC or plumbing services, you must now know how to address them. Below are the five best practices companies should use to help maintain a high-quality company reputation when navigating customer reviews.
1. Verify Negative Reviews
In a 2022 consumer study, roughly 50% of consumers claim they've encountered fake customer reviews on Google. Across the HVAC and plumbing space, it's not uncommon for false bad reviews to be left by competitors or users who may have mistaken your business for another. With each bad review, be sure to access your customer database to verify the reviewer's name or profile matches a previous customer or recent service. If it doesn't, make note of this in your response and provide a contact to demonstrate the efforts of reaching a solution.
2. Acknowledge the Problem and Offer a Solution
If you've validated a negative online review, your immediate next step should be to acknowledge the customer complaint and offer a potential solution. In your response, admit to any error or inconsistency that impacted the customer's experience and apologize for any repercussions that may have occurred. After apologizing on your company's behalf, conclude your response with contact information the reviewer can use to speak with a manager, or inform the reviewer that they will be contacted in an attempt to reach a timely solution.
3. Respond Professionally to Every Review
From a customer's viewpoint, it would seem a bit ironic if a company only ever responded to positive reviews, not negative ones. To any potential customers, this practice may appear as if you don't value the constructive criticism of prior customers or their overall satisfaction. Responding professionally to each and every review signals to future customers and even operational partners that you value the approval and satisfaction of the individuals you work alongside and provide services to.
4. Follow Up Through Direct Channels
HVAC and plumbing businesses should typically be able to align any bad reviews with a previous service call and contact information. Outside of responses in the review platform, contractors should also consider following up directly with an angry customer via phone, SMS, or email once a solution has been offered online. This can be your time to personally offer to come back to the service site to fix or review any underlying concerns, and to confirm that your previously offered solution has alleviated their problem and mended their opinion of your business.
5. Encourage Satisfied Customers to Leave a Review
Beyond unhappy customer follow-ups, professionals should also be taking the time to reach out to satisfied customer customers who have yet to leave a review. In these communications, politely request a positive online review in support of your company's reputation and long-term success. This may also be a good time to plug any marketing materials that highlight your company's referral program and the benefits customers could earn by helping you bring in new business.
Support Your Good Reputation with JB Warranties
While the routine management of online reviews is essential for maintaining a positive company image, there are additional solutions to support long-term customer satisfaction. After each HVAC or plumbing installation, don't forget to offer JB Warranties' Premium Protection Plan, so customers gain lasting protection and peace of mind against unexpected system breakdowns and repair needs.
Contact JB Warranties today to learn more about our comprehensive selection of extended warranty plans and determine which is right for you and your customers!

Matt Cosby
Director of Marketing