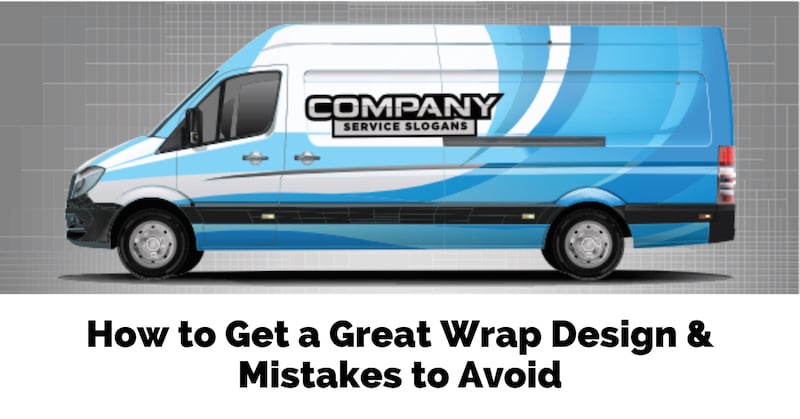 For field service businesses, like HVAC and plumbing, vehicle wraps serve as a fantastic form of advertising that has the potential to reach thousands of prospective customers each week. With American drivers taking an average of 1.1 billion trips a day, there's no doubt that the use of vehicle wraps offers an immense customer reach that can even rival that of digital marketing solutions.
Vinyl vehicle wraps are applied directly to the painted surface of a company vehicle and provide the opportunity to advertise a company logo, contact information, and other relevant business service information. However, no two companies' vehicle wraps should look the same, which means you'll need to follow a few best design practices to ensure you stand out from the local competition.
Read on to learn more about designing a great HVAC or plumbing truck wrap and the mistakes to avoid when navigating this advertising process for field service businesses.
What Does the Typical Design and Wrap Process Entail?
If you've decided to invest in vehicle wrapping services for your HVAC or plumbing company fleet, you may be curious about the process. As with any vehicle wrap, the process will start by designing your wrap layout. Typically, a vehicle wrap professional will inquire about an existing company logo and the specific details you would like included on each truck.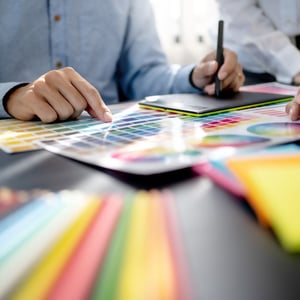 A wrap professional will then assess whether your current logo will translate well once applied to the company vehicle—certain images or icon-based logos may need to be altered to fit the truck's dimensions. If your branding isn't "wrap ready," your wrap professional may be able to offer subtle design tweaks to your logo to translate your company brand more effectively and render the best return on investment possible.
Once the design team has adjusted your logo to the wrap layout, it's time to incorporate additional details, like contact information or service specials. From here, your wrapping professionals will take exact measurements of each vehicle in the company fleet to match the truck dimensions to the wrap dimensions. After taking measurements, the wrap can be printed and applied within one to two days.
How to Get the Perfect Design
While the application of a vehicle wrap shouldn't require much of your attention, the design portion absolutely does. Before even contacting a wrap professional, you should create a general idea of what you envision your ideal wrap will look like. Nail down the desired company details, brand colors, and general layout of your wrap to help the professionals better match your vision.
Before reaching out with your ideas, you'll first want to do some local research. Searching for the best wrap provider can be overwhelming, so be sure to look at the top local companies and recent reviews and ratings. Once you have a few options in mind, explore company websites and social media as a type of portfolio to get a feel of recent work and if it matches your vision.
Once you're set on a single service, reach out and present your requests. Remember that they've done this quite a few times, so don't worry about having to provide the exacts of your design. However, be sure to have a few design components in mind, such as color, font type, and logo details. The wrapping professionals should be able to convert your vision into something visually pleasing.
Common Mistakes to Avoid When Designing and Wrapping Your Vehicles
At the end of the day, your wrap job must match your vision and act as an effective marketing source for your HVAC or plumbing company. When constructing your HVAC or plumbing vehicle wrap design, there are a few common mistakes you should be aware of before hopping in. Avoid these common concerns to see the best return on investment when wrapping your company fleet.
1. Too Busy of a Design
While you may be excited to dive in, don't let your collection of design ideas be the cause of an overwhelming final product. Instead, start by determining what text you NEED on the vehicle. Company name and contact information are a given, but if you decide to incorporate additional information, ensure that it will organically fit on the van or truck without looking too busy.
The same can be said for your design's color scheme. Try to stick with just two to three colors from your established brand logo to avoid an overwhelming and busy design. Likewise, if you are using some sort of pattern in your design, avoid overlapping too many images, logos, or text, as the final product will be hard to digest by drivers.
2. Poor Font Style and Size Choices
Even with your color scheme and accompanying text decided, a lousy font style and size could cause a messy and unappealing result. While there are many cool font styles, they were not all created to be used on a vehicle wrap. Instead, consider choosing a simple and easy-to-read sans serif font that drivers and pedestrians will be able to read—even if they're going 65 mph down an interstate.
You'll also need to ensure that the font size you choose goes hand-in-hand with the amount of text you want on the wrap and the size of your vehicle. Going too small with font size impacts the ability to read your company details from a distance, while going too big can overwhelm your design and create a busy and unattractive wrap. Request professional feedback during design, as an experienced car wrap service should be able to scale your font size to the appropriate levels.
3. Missing the Company's Brand Identity
The purpose of any HVAC or plumbing company fleet wrap is to be easily identifiable and informative while on the road. A vehicle wrap that fails to display your plumbing or HVAC brand identity effectively will miss the mark when it comes to customer reach and advertising potential. As with many easily identifiable, successful company logos, you need company branding that customers can remember.
Develop a company logo that encompasses your preferred color schemes, font, and layout if you haven't already. There are many graphic design services out there that can help create a logo and brand identity that best matches your operation. Using company branding on business cards, company websites, and vehicle wraps will help your company stand out and become distinguishable from the surrounding competition.
Get to Wrapping Today
If you're looking to grow your HVAC or plumbing operation and become more recognizable in the area you serve, company vehicle wrapping is the way to go. Vehicle wraps act as an effective form of advertising that can increase both customer leads and interest. Be sure to check out JB Warranties Dealer Services Marketplace for more tools and services to help take your HVAC or plumbing business to the next level.

Brian Bohannan
Vice President of Sales at JB Warranties