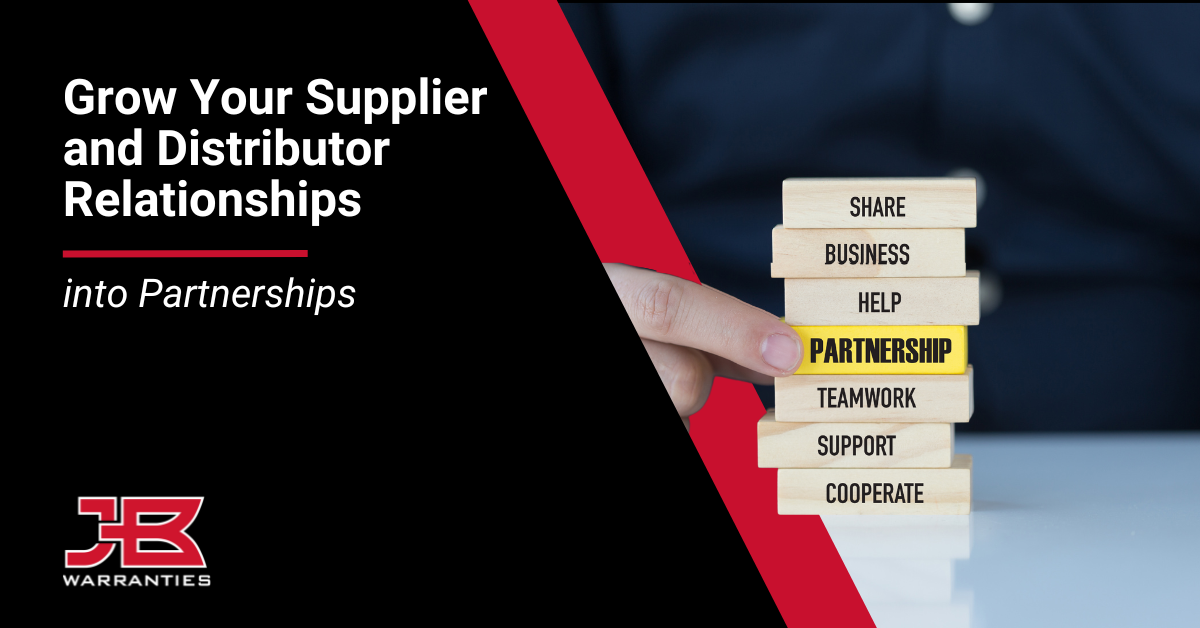 Licensing, insuring, and funding your venture were likely some of the first steps you took to kickstart your HVAC or plumbing business. Now that you're on the path to long-term success, creating mutually beneficial relationships with your suppliers and distributors is equally as important.
Keep reading to learn the benefits of these relationships and five best practices to help your suppliers and distributors become partners for the long term.
What's In It for Me?
Building your supplier, distributor, and vendor relationships is a great investment of time because they are critical to your company's daily operations and long-term objectives.


Consider supply chain management. Without healthy distributor and supplier relationships, an HVAC or plumbing company like yours could unexpectedly experience costly supply chain delays that prevent you from keeping pace with customers' demands.
While you may not be able to change product delivery delays, having honest relationships with your suppliers may provide insights about those delays that help you communicate better with your customers. When you're able to pass along informed updates, you build customer trust and goodwill despite those delays.
Below are three more reasons to invest time and energy in your partnerships.
Uncover Long-Term Savings
Solid vendor and distributor relationships are essential for staying on budget and scoring savings when possible. With the cost of labor materials still 37% higher than pre-pandemic, trusted suppliers will take the time to assess product prices and availability to ensure you receive the best bang for your buck. When you have healthy relationships with suppliers, they may also uncover various discounts and incentives that can drive down costs and increase gross margins.
Improve Company Efficiency
An effective communications plan should include predictable touch-base calls or meetings with your suppliers or distributors. These can be short check-ins to review orders in process and brainstorm ways to help grow your respective businesses together. They may also result in streamlined communications, improved processes, and operational efficiencies.
Support the Customer Experience
Remember that people like doing business with those they like. By building strong relationships with your suppliers and distributors, there's a higher likelihood they will deliver orders promptly and do their best to shorten delays. Not surprisingly, your customer relationships benefit from each on-time supply arrival. It increases their confidence in projects' timelines and your commitment.
5 Best Practices to Build Strong Relationships with Suppliers and Distributors
Now that we've tackled WHY it's so important to build honest and long-term relationships with suppliers and distributors let's dive into the best practices that support a systematic plan to build partnerships that stand the test of time. Below are the top five best practices for developing strong partnerships with suppliers and distributors that can ultimately help meet the HVAC and plumbing business goals you've set.
1. Select a Provider That Aligns with Your Company
The first step to building fruitful relationships with suppliers and distributors is choosing those potential suppliers that align with your business goals. It's easy to focus on who can get you the lowest prices rather than those who share comparable work ethics, values, and overall reputation. An oversight in this important distinction can result in disjointed partnerships that ultimately hurt your business.
To begin your research, use LinkedIn and Google Reviews to discover suppliers and distributors that demonstrate a strong understanding of the HVAC and plumbing industries. Then, reach out in a professional manner to set up calls or meetings to introduce yourself and explain your objectives and needs. Ask them to share their priorities as well. This upfront dialog is the start of healthy relationships and lays the groundwork for strong vendor relationships.
2. Understand Exactly What They Require
After choosing reputable suppliers and distributors, it's important to learn exactly what they require from you to get started. To not frustrate or delay key suppliers, ask for written descriptions of ordering procedures and timeframes, payment terms, and communication channels or contracts. Learn their preferred system and adapt yours to match.
It's important to realize that many HVAC and plumbing suppliers will request general estimates from you about the types and quantities of materials you anticipate requiring each month. Consider developing monthly supply inventory spreadsheets to help streamline these estimates. This will improve order accuracy and result in on-time deliveries.
3. Ensure Prompt Payments
As an HVAC or plumbing business owner, you want to be paid for your services on a timely basis. Your supplier and distributor partners want the same thing. Strong relationships grow when you abide by your suppliers' payment terms as much as possible.
That also means using their preferred payment method. Oftentimes, suppliers and distributors use online payment portals to track and collect payments. Quickly setting up your online accounts according to their business processes proves you want to create a beneficial relationship with them for the long term.
4. Maintain Strong and Consistent Communications
Regular and honest communication helps build trust with your supply and distributing partners. It also supports quicker project turnarounds and reduces the likelihood of order errors.
To avoid communication missteps, it can be helpful to designate a Supplier Relationship Manager (SRM) from the start. These individuals act as liaisons between your company and the supplier to ensure orders and payments are submitted on time. SRMs can also support inventory management and promptly respond to any supplier concerns when necessary.
5. Address Concerns Professionally
At the end of the day, no business is perfect. Whether it's an error on your end or a delay on the supplier's end, you must remain open-minded and expect that problems will arise from time to time.
If small missteps occur, address them in a proactive manner. Early problem-solving opens the door for solutions to be quickly implemented. Those same conversations may also uncover ways to mitigate concerns in the future.
If frustrations mount, remember that maintaining long-term, healthy business partnerships with your suppliers and distributors helps YOUR customers' needs and ensures long-term customer satisfaction. While it takes time to build trust, rash actions can destroy relationships in moments. Act in a professional manner and preserve your company's reputation.
Partners Support Customer Satisfaction
Business partnerships with your suppliers and distributors are valuable tools and support your customers' needs more than you realize. Another way to increase customer loyalty is offering extended warranty services. Through JB Warranties Premium Protection Plans, customers can receive enhanced protection and extended warranty coverage on all their new HVAC and plumbing equipment.
Not to mention, JB Warranties offers customers an easy-to-use warranty management portal that makes purchasing a warranty plan and submitting warranty claims a breeze, allowing for fast and easy reimbursements. Contact us today to learn more about JB Warranties' various extended warranty plans.
Kevin Thornton
VP & GM, Dealer Business Services Division