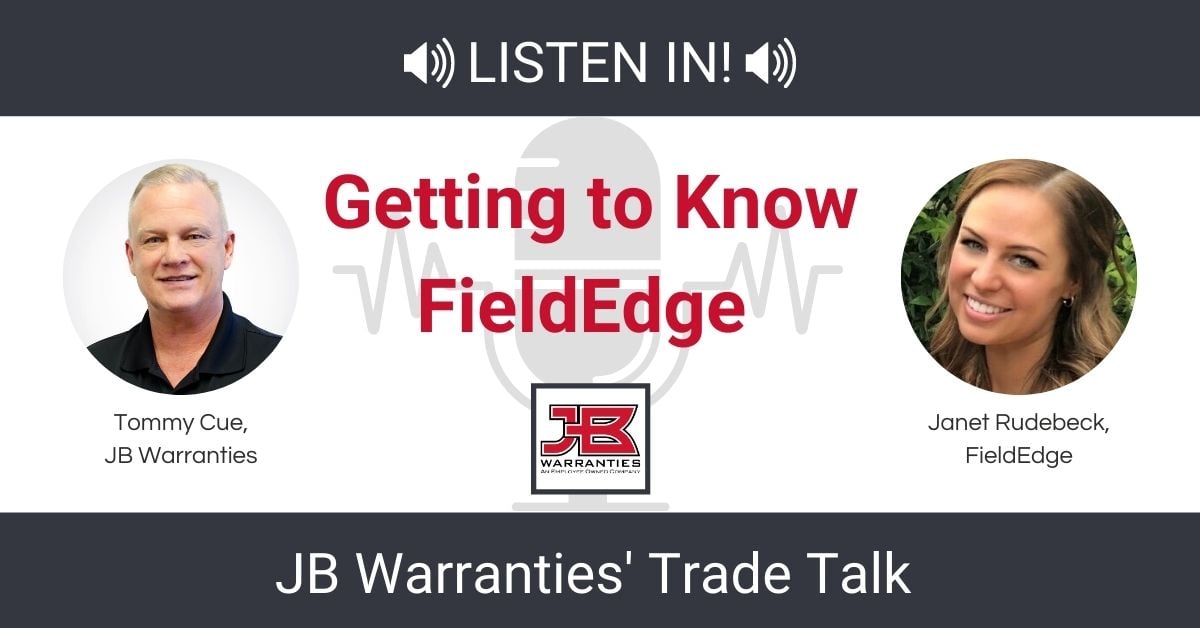 In this episode of Trade Talk, Tommy Cue talks with Janet Rudebeck from FieldEdge. They spend time digging into the their product and how
---
Contact Janet
Phone: (404) 246-8100
Email: jrudebeck@fieldedge.com
---
Not in the mood to listen? Read the transcript instead.
Hello everyone, and welcome to this edition of JB Warranties' Trade Talk. In this episode, Tommy Cue speaks with Janet Rudebeck from FieldEdge, to talk about their product, and how you can get started using their solution.
Tommy Cue: So I'm Tommy Cue, I'm the vice president of sales at JB Warranties, here in Dallas, Texas. We do contractor extended warranty programs across the country, and we've also partnered up with some key vendors that we think our contractors would add value by joining a field management solution. We currently have a partnership in place with FieldEdge, I'm going to visit with Janet Rudebeck today. She is the senior channel marketing representative for FieldEdge, they're headquartered out of Georgia.
Tommy Cue: What we're trying to do, on behalf of our contractors across the country, is I just want to provide a platform, whether it's financing, if it's a business platform, whether it's something to do with Microsoft, I just want to be able to be a resource for contractors for a lot of different avenues.
Tommy Cue: So with that being said, I asked Janet to jump on this call today. They have done a really nice job growing their business, and I really just want her to expand on everything related to FieldEdge. So with that being said, Janet, go ahead if you don't mind, and tell me a little bit about FieldEdge, and the history.
Janet Rudebeck: Great, thank you Tommy. Yeah, what's actually shocking is that FieldEdge has been in business for 40 years, building software for contractors in the market. You don't hear that from many companies in today's environment. What's even more unique is that we actually started as an HVAC company ourselves, back in 1979, down in Fort Myers, Florida. We actually still have an office there, so we have our office in Atlanta, and Fort Myers where we were started.
Janet Rudebeck: Many people in the industry know us as our legacy product, which is dESCO, or ESC. We still support that product for a couple 1000 customers today, but what I'm really here to discuss is FieldEdge, which is our cloud based software. We're very industry specific, so our core customers are mainly HVAC, plumbing, and electrical, and our goal is to really streamline the process from the backend, all the way to the end customer experience.
Tommy Cue: Gotcha. Currently your platform, across the country ... your two different platforms, how many contractors roughly, are you currently doing business with?
Janet Rudebeck: Roughly in total, between the two, we support about 5000 contractors nationwide.
Tommy Cue: Nice. Very nice platform. What are the other key features that a JB Warranties contractor might want to know about FieldEdge, to see if it's a good fit for them, Janet?
Janet Rudebeck: Yeah, absolutely. That's a great question because we all know that companies buy for three or four different reasons, so I'll really cover the key features that set us apart from our competition in the market.
Janet Rudebeck: So the number one reason why customers choose FieldEdge specifically, Tommy, is going to be our live integration question QuickBooks. We've completely eliminated that batch and sync process that I'm sure companies are familiar with today, that a lot of other software companies offer. So your information as a customer is going to be clean, accurate, we're eliminating duplicate entries. So you can work out of QuickBooks, and or FieldEdge, and watch that information change live. We're really trying to eliminate working out of both an accounting software and an FSM software, so that we're saving your customers time throughout the day.
Tommy Cue: Nice. Going down that same path, if you will, the structure of FieldEdge. What a lot of contractors are trying to do is build up their maintenance department, maintenance agreements. Do you all have a portal that does all that for them, and help walk them through that process?
Janet Rudebeck: Yes, absolutely. I talked about the number one reason being that QuickBooks integration. The second reason is actually the service agreement management, and how we manage that for the customers.
Janet Rudebeck: So really, it's unlike any other in the industry. As we all know, selling those maintenance plans is the easiest way to add money to a company's bottom line. What sets us apart from our competition is that FieldEdge is actually going to be automatically communicating to the customers, whether it's a pre-recorded phone call, a text message, or an email, based on the customer's preferences of course, that their service is due. So we're eliminating those manual phone calls, manual emails to the customer, so that they're coming to you for their appointment. Which I'm sure plenty of office managers can relate to, I'm sure that's a breath of fresh air knowing that they don't have to manual reach out to upwards of 1000 customers per year to let them know that their service is due.
Janet Rudebeck: And that way, customers see that email come through, "Hey come to us, your service appointment is due." They'll give you a call and they'll say, "Hey, I saw the email. Can you get me scheduled as soon as possible for my maintenance plan?"
Tommy Cue: I think contractors probably missed the boat on the maintenance agreements. Across the country, that's probably where we all need the best help. I think having customers assigned to maintenance agreements, and of course extended warranties as well. But, now we know that all manufacturers, it doesn't really matter the brand of equipment anymore, all manufacturers require maintenance agreements, the contractor has what I would consider an off-season revenue stream, and you manage that very simply for them, right?
Janet Rudebeck: Absolutely. I'm so glad you mentioned that, because I've seen a million different ways to manage this, managing service agreements. Really, I tell customers all the time, if you don't have a sustainable way to manage those maintenance plans, then you can't really be aggressively offering them at all. Otherwise, things are going to fall through the cracks. Yeah, 100%.
Tommy Cue: Yeah. Any other key features that we need to expand upon now, Janet?
Janet Rudebeck: Yeah. One really important feature is our owners dashboard. It sounds very simple, it's what a customer is going to see as soon as they sign on to FieldEdge. But, you're going to get that truly accurate visual into the company's health. So as soon as an owner signs on, he or she is going to be able to see their potential sales, their closed sales, any open quotes, what's their conversion rate, things like that. So you, as an owner, understand where you are as a company, at any given time.
Janet Rudebeck: This is actually one of the features that we hear positive feedback on the most, aside from the QuickBooks integration and the service agreements. It's a simple feature that we didn't realize was going to be so valuable. But, when it's the first thing that they see during an online demo, it really shows that value so that's going to be something that's really important to them as well.
Tommy Cue: Gotcha, fantastic. The other thing is you have an item here that I'd like to expand upon, is the pay structure within FieldEdge.
Janet Rudebeck: Yes, absolutely, more than happy to go into that. One thing that is really appealing to our customers, especially right now, and this is another thing that we do differently than other companies in the market, is that we are a month-to-month payment option. We don't require contracts, so this has been especially beneficial during this unexpected time right now, when companies are getting their feet wet, getting their feet back on the ground, hiring more technicians.
Janet Rudebeck: We do have an option of annual agreements, which does lower the price, but we do like to offer that month-to-month agreement so that they can add or remove licenses as they so choose.
Tommy Cue: Nice. I would think that's probably one of the better advantages for a contractor, not being tied into a contract, to give them ... I don't know, the first 30, or 60, or 90 days experience will tell them whether it's a good fit for them or not. How do you handle onboarding a new contractor?
Janet Rudebeck: Yeah, great you asked. That's one reason why we do the month-to-month, we really stand by our process. The idea is pay month-to-month, but we hope you're with us for forever. We really do take implementation and onboarding very, very seriously. We will work with a customer for an average of about five weeks or so. We have an entire data team that is working to get their QuickBooks integrated within FieldEdge, we're training and onboarding individuals, we can do group trainings. We really work with the dealer to be on their schedule, so we take about a five week process to get them onboarded.
Tommy Cue: Nice. Do they typically have the same, call it consultant if you will, that works with them? Or, is it different folks doing different avenues of the software itself?
Janet Rudebeck: Yes, great question. That's actually the basis of the appeal of our implementation process is that they're going to have exact same rep training them and onboarding them through that whole five week process. So they're familiar with you, they're familiar with your account, they know what training you've done, what training you haven't done, so you really build that rapport with them so you can get up and running as soon as possible.
Tommy Cue: Gotcha. Of course, JB Warranties, we do business with thousands of contractors. For us, what we're going to do is we're going to send them an email, and it's just going to have a link associated with it. All I want a contractor to do is just click the link, that notifies I think specifically you Janet, is that right?
Janet Rudebeck: Yes sir, it does.
Tommy Cue: So they click that link, and that's just a registration process for a free online demonstration.
Janet Rudebeck: That is correct, yes. That is indicating yes, I want to learn more, I would love to hop on and see a customized demo. More than likely, I will be the one doing the demo with the customer. So really excited to meet your customers, get to know their business, see what features of FieldEdge can really take their business to the next level.
Tommy Cue: Gotcha. I'll have that link on our website as well, but we'll also send it out to our contractors across the country.
Tommy Cue: Currently, due to the situation in the United States, I know there's a little bit of special pricing and incentives running around. Is there something like that available to the contractors, in the foreseeable future?
Janet Rudebeck: Yes, 100%. First off, we are going to be offering JB Warranties loyalty discounts, all year round to customers, no matter what time of year. But in addition to that, we also do have some really, really awesome summer promotions going on right now. In the wake of COVID-19, and just it simply being hot right now, we're offering some summer promos. There's are savings of upwards of a couple $1000 within the first year, so I definitely highly recommend jumping on an online demo, and seeing what we have to offer and maybe take advantage of those deals.
Tommy Cue: A couple other things I wanted to mention. I do have several contractors already on your platform, of course.
Janet Rudebeck: Wonderful.
Tommy Cue: I visited with them, I wanted to get their perspective of it, too, right?
Janet Rudebeck: Sure.
Tommy Cue: One of the things that they really told me is the mobile, you have a mobile app, mobile friendly, online or offline. Is that correct?
Janet Rudebeck: That is correct, we do have an offline mode.
Tommy Cue: I don't know that all programs do this, but your program has pay in the field capabilities, is that right?
Janet Rudebeck: That is correct. Yes, we have integrated FieldEdge payments, so it all goes into one place.
Tommy Cue: Okay. It's either an online version or a desktop version, is that right?
Janet Rudebeck: For FieldEdge, with the QuickBooks, they can have QuickBooks Online or QuickBooks Desktop, we integrate with both. Then, we have the desktop license of FieldEdge, which is the office license. And then, yes, we have that mobile application in the field, that technicians are using to clock in and clock out for the day, create invoices and quotes, good, better, best options, take those integrated payments in the field.
Tommy Cue: You just brought up another thing I wanted to touch on. When you say good, better, best, that's from a contractor selling to a consumer. Do you help them build out that pricing platform as well?
Janet Rudebeck: We absolutely do. If they do go with the platform that has the multi-option quote feature, they can go in there and build out assemblies, we can definitely help them with that so that they can off the good, better, best options. They can offer things like thermostats, any labor rates that they want to attached to it. But yes, they can build out those options.
Tommy Cue: God, I think this is a fantastic overview. Janet, can you think of anything I might have forgotten to ask, that we need to share with the world out there, through this broadcast?
Janet Rudebeck: No. Honestly, I'm sure there are a few people wondering about pricing. Aside from the pricing structure, we are very, very appropriately priced for the market, we do come in cheaper than some of our competition. For the value that you do get, it's easy to remember that we have the scheduling and dispatch capabilities, we have the mobile application capabilities, but we do also have a ton of other integration partners. So if you're really looking for a software to take you further, you can offer reviews on every job, you can offer financing within the field, take those integrated payments, and they're all going to be in one easy application.
Tommy Cue: Nice. Well, thank you so much for the time. I think having a platform that is a month-to-month platform, that's cost competitive, that does everything a contractor needs ... and I can't stress upon the scheduling, the dispatching, the maintenance agreement, automation, I think it's a great fit. Is there any other requirements that a contractor ... I mean, is there a size limit to your capabilities? Is it five people or more, what are you looking for, contractor wise?
Janet Rudebeck: I'm so glad you asked that, Tommy. Yes, we have two requirements to sign on with FieldEdge. One requirement is the QuickBooks for your accounting system, we integrate with both Desktop and Online. Or, you just need to be able to be willing to make the switch to QuickBooks, we have some contacts here that can help you with that process.
Janet Rudebeck: The other requirement is that you do have a dedicated dispatcher in the office, fielding those phone calls, and scheduling and dispatching out. We require one mobile license and one office license, Tommy, so we can work with any companies that have one truck on the road. We can work up to companies that have 200 trucks on the road. Really, we can work that whole broad spectrum of customers.
Tommy Cue: Fantastic. Well, thank you so much for the overview. I think it's a great product. I've talked to, again I've mentioned, several of your customers that are on the platform, that's why I want to share it with our contractors so they can have an option that, I think, is a really good fit for contractors across the country.
Janet Rudebeck: Yeah, absolutely. I really thank you for your time, it's been a pleasure going over it. I'd love to talk with as many customers of yours as possible, get to know them a little bit, get to know their business. You guys can to go JBWarranties.com, or just reach out to your local JB Warranties representative or office. I'm super excited to be partnering with JB Warranties, it's a fantastic company, it's really a great group of people. Very excited for the new FieldEdge and the JB Warranties venture.
Tommy Cue: All right Janet, well thank you very much for your time, I appreciate it very much. We'll get this sent out as well, and we hope to add some joint customers together, [inaudible 00:15:41] forward for 2020 and 2021, and many years to come.
Janet Rudebeck: That sounds great, Tommy. Thank you so much for your time.
Tommy Cue: All right, thank you.
Janet Rudebeck: All right, bye bye.
Tommy Cue: Bye bye.
All right folks, that does it for this episode of JB Warranties' Trade Talk. Thanks for listening in.
If you're looking to improve your customer satisfaction, increase retention, and generate additional revenues, trust the experts at JB Warranties. Register for your premium protection plan dealer account today.

Tommy Cue
Vice President of Strategic Partnerships at JB Warranties