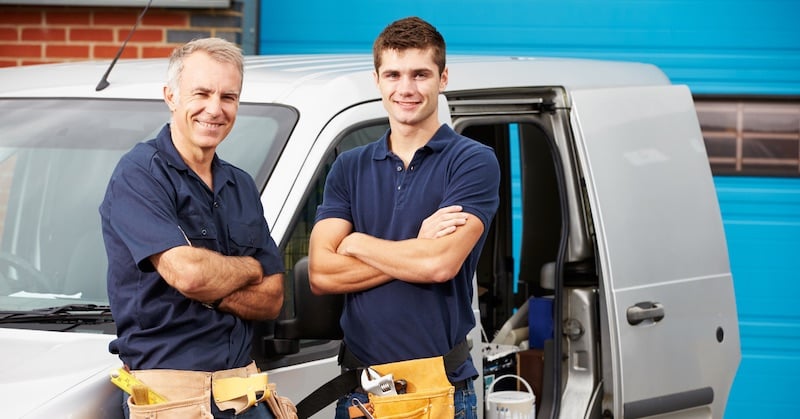 Many family-owned businesses are successful because they can balance family issues with business relationships. Sometimes that's easier said than done, right?
This endeavor isn't like the family vacation where you can threaten to turn this car around if the kids don't start behaving. Nor can you complain to your wife about your co-worker after a hard day on the job because she may be that coworker who got under your skin that day.
All kidding aside, there are some key areas to focus on in a family business if you want to stay sane. That's why we put together these tips for your consideration to help your business grow while keeping your relationships intact.
Work-Family Balance
Communication is an essential factor in the success of any business - but family-owned companies face additional challenges.
For instance, when it comes to conversations between relatives who work together, everything can seem like personal life and work-life blurring together. And, those coworker-relatives may be driving the rest of the extended family crazy with the constant shoptalk.
Set limits around business-related conversations once you leave work for the day. Similarly, try to keep discussions about family matters to a minimum when you're at work.
Handling Family Conflicts
Relatives sometimes clash over decisions like who will host Thanksgiving this year. Passive-aggressive comments or outright yelling matches may come into play for settling those disputes in some families. No judgment if that's your situation. Sometimes stuff gets intense.
BUT . . . you can't bring that type of conflict "resolution" to the business: The resentments build and spill negativity over to customer interactions. Plus, these family struggles at work can make it pretty awkward for the other employees in your business.
The best thing to do is not go into business with any relative you can't get along with. However, that may not be so easy to avoid depending on your circumstances. In these situations, get an outside opinion or guide: Bring in an HR person, hire a mediator, or create a board for conflict resolution and decision making.
Regardless of what you do, find a way to limit and manage family conflicts related to the business.
Consider having a family retreat or offsite meeting for those relatives involved in the company. Make this a time where you discuss business-related issues that impact family relationships.
"This is something my mother mandated a while back that has helped us communicate and stay connected with each other. We make it a point to meet regularly as a family and we discuss everything from what color to paint the walls to the future direction of the company." – Brian Bohanann/ Director of Operations
Hiring Practices
During the initial phase of your business, you may limit hiring to family members. However, as you grow, you may need to branch out beyond relatives. You may feel strongly about "keeping it in the family," but just remember that people outside your family circle can bring new ways of thinking, new connections, and new growth opportunities.
As you begin bringing new employees into your business, make sure that you create job descriptions for every member of the team – even relatives – and ensure that each employee is qualified for the role they take on.
Some experts recommend the following additional criteria for relatives who want to join the business as a full-time employee:
A relevant educational background or certification (if required)
Three to five years' outside work experience
An open, existing position that the relative is qualified for
Applying hiring rules like the ones mentioned above can help reduce the appearance of favoritism just from being the "boss' kid."
Company Culture
How does your company culture operate? Do employees know that they don't need a DNA match to feel respected and valued?
If you've limited hires to the family during the start-up phase, remember to evolve your culture as you grow. As your business expands, make sure it's welcoming to people who aren't related to you.
"Working with friends and family presents unique challenges but also can be rewarding. The key is to have a healthy blend of employees from all different backgrounds. In start up, it can be heavily skewed, for instance, we started with over 85% friends and family through our first 8 to 10 employees. As the company has grown, we have made an effort to bring in a diverse mix of outside employees to improve collaboration." – Jenna Ochoa/ VP JB Warranties
Here are a few tips to remember to ensure people feel like part of the organization.
Limit or avoid using labels like "mom," "dad," "son," "daughter" in business meetings and conversations if it's not needed. These terms can cause some employees to make assumptions.
Treat relatives and non-related employees equally on the job. Give fair reviews and compensation based on performance.
Don't go too far in the other direction and be unduly tough on your relatives who work for you. Some owners want to demonstrate that they aren't playing favorites by coming down too hard on family members, especially on sons and daughters, who decide to join the business.
Offer perks and benefits that make everyone glad to be part of your team.
Succession Planning
If you've built a family-owned HVAC or plumbing business, chances are you want to hand this down to someone in the next generation of your family. There are some sensitive issues that require open and honest communication, and that's why succession planning is so important.
Do any of your kids, nieces, nephews, or grandchildren want to take over the family business? If not, you need to make plans for the future. Will you sell the company when you're ready to retire? Does the family want to retain ownership without actually working in the business? Then you need to start grooming someone to manage the business.
What if multiple next-generation family members want to take over and run the business? Yay, and maybe yikes. It's wonderful to have multiple members of the family so invested in the company's success. However, their ambitions to run the business mean you need to meet with them all and explain what it will take to be named your successor.
I know you don't have a favorite kid/niece/nephew/etc., but let's pretend that you do. Remember, you need to make sure that your choice for your replacement is sound for the business and not blurred by favoritism.
Be transparent and communicate with your family about succession planning to limit any future arguments and misunderstandings about who's taking over.
Estate Planning
Estate planning isn't necessarily something we like to think about, but it's critically important when you own a family business. After you create your will and estate plan, hold a family meeting to discuss them.
Give each family member (and any other stakeholder) who attends a summary of the estate plan. Invite your lawyer or CPA so that they can help answer any questions. Take this time to discuss your plan and hear feedback from stakeholders and family members. This time is where you'll be able to address questions, make changes, and potentially avert intra-family disputes that could otherwise arise once you're gone.
What Family Business Tips Do You Have to Share?
I know a lot of our customers and readers have experience working in family businesses. What is your best advice to other family-run businesses? Share your tips and stories in the comments below, or bring them to one of our social media channels for discussion.

Brian Bohannan
Vice President of Sales at JB Warranties