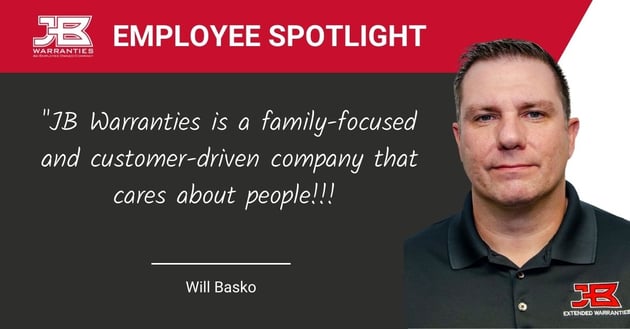 Will Basko started off his career in the HVAC industry as an entry-level forklift driver for an HVAC distribution warehouse. He worked his way up to counter salesman where he served contractors daily and being the go-to guy for all things parts/supplies/equipment in his area. After more promotions, he worked his way up to the store manager position.
We were lucky enough to have Will join the JB Warranties team in 2016 as a Territory Manager with responsibilities for growing sales in several states. He was in charge of overseeing one of the largest territories in the country. Next, Will moved up to Regional Manager of the Southeast - directly responsible for millions of dollars in warranty sales annually.
Thank you, Will! Your continued success and competitive drive are what make you such a pleasure to work with.
Getting to know Will
What is your position at JB Warranties?
Southeast Regional Manager
How long have you worked at JB Warranties?
5 years this October 1
Describe yourself in 3 words.
Fun. Energetic. Easygoing.
Name one thing on your bucket list.
Skydiving 🪂
What are a few fun facts you'd like to share about yourself?
Tried out for the Reds and Expos being the fastest person at those camps. That was a couple of pounds ago.
What do you believe sets JB Warranties apart?
Family-focused and customer-driven company that cares about people!!!