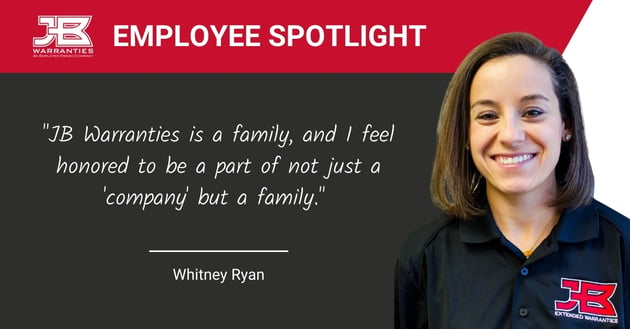 Whitney Ryan joined JB Warranties in December of 2017. She is a valued member of our Claims Department that brings her enthusiasm and eagerness to work each and every day.
Whitney is a team player and is always willing to pitch in and help. She excels in assisting our dealers and homeowners. We are thrilled to have Whitney as a part of our JB Warranty family and are looking forward to many years ahead!
Thanks for all of your hard work, Whitney!
Getting to know Whitney
What is your position at JB Warranties?
Claims Representative
How long have you worked at JB Warranties?
December 11th will be year four
Describe yourself in 3 words.
Charismatic. Loyal. Good Listener.
Name one thing on your bucket list.
Go back to China and walk the Great Wall
What are a few fun facts you'd like to share about yourself?
I was adopted at the age of two from the country of Romania.
What do you believe sets JB Warranties apart?
JB Warranties is a family, and I feel honored to be a part of not just a "company" but a family.