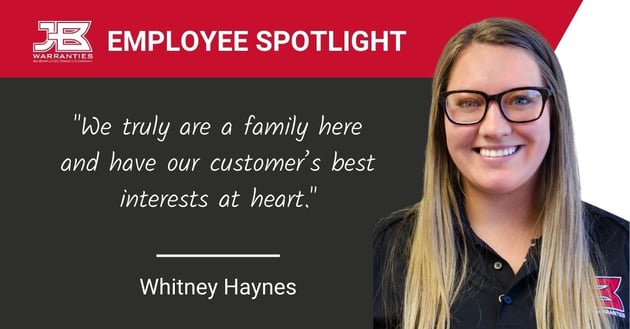 Whitney Haynes has been working in the Claims Department and a part of the JB Warranties family for five years. She excels in problem solving and is always willing to go the extra mile in assisting customers. She serves as a mentor to other claims adjusters and is excellent at training new employees. Whitney truly is a team player in every aspect. We are grateful to have her as an employee and as a friend.
Thank you, Whitney, on behalf of everyone here at JB Warranties, for your dedication and hard work.
Getting to know Whitney
What is your position at JB Warranties?
Claims Representative
How long have you worked at JB Warranties?
5 years
Describe yourself in 3 words.
Personable, Genuine, Considerate
Name one thing on your bucket list.
Interact with elephants. 🐘
What are a few fun facts you'd like to share about yourself?
I can play the drums, I was invited to play softball in Hawaii when I was 18 (That was also my first flight, ever!), I have been to multiple KISS concerts.
What do you believe sets JB Warranties apart?

The atmosphere at JB Warranties is one of a kind. Every employee plays a significant role for the company to perform as a unit. We truly are a family here and have our customer's best interests at heart.