Tommy Cue joined JB Warranties in May of 2013 after spending 30 years in wholesale distribution across Texas. Tommy started his tenure at JB Warranties as a Texas territory manager covering Houston. Within a year, Tommy had taken over the state of Texas and begun forging distributor partnerships. In 2014, Tommy began hiring additional territory managers in the state to support the increase in business that resulted from the new distribution relationships.
In 2015, Tommy was promoted to Sales Manager and was tasked with overseeing the sales team. During Tommy's tenure as Sales Manager, JB Warranties added dozens of territory managers, and sales increased exponentially.
In 2019, Tommy was promoted to Vice President of Sales. Over the last few years, the sales team has grown to over 35+ territory managers and 6 regional managers, covering all strategic markets for JB Warranties. During Tommy's time leading the sales team, JB Warranties has been named to the Inc 5000 fastest-growing private companies multiple times.
In 2022, Tommy took on a new role at JB Warranties. The first person to hold the title of Vice President of Strategic Partnerships. In this new role, Tommy will be focused on establishing relationships with the Private Equity players in the space, the equipment manufacturers, wholesale distribution partners, and our strategic partners.
Over the last 9 years, Tommy has been an irreplaceable member of the team, and we can't wait to see what he accomplishes next at JB Warranties.
Thank you, Tommy, for your hard work and dedication to the company.
---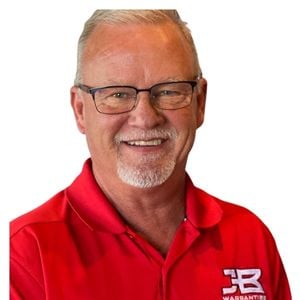 Getting to know Tommy
What is your position at JB Warranties?
VP Strategic Partnerships
How long have you worked at JB Warranties?
9 years
Describe yourself in 3 words.
Funny. Dependable. Hardworking.
Name one thing on your bucket list.
Peacock bass fishing in Brazil and Dove hunting in Argentina
Here are a few fun facts about Tommy.
I have cooked in many bbq competition cook-offs

Avid outdoorsman - fishing and hunting
What do you believe sets JB Warranties apart?
JB Warranties' customer service is the best there is in the space. They have the largest sales team in the HVAC warranty space. JBW is an ESOP for all our employees.