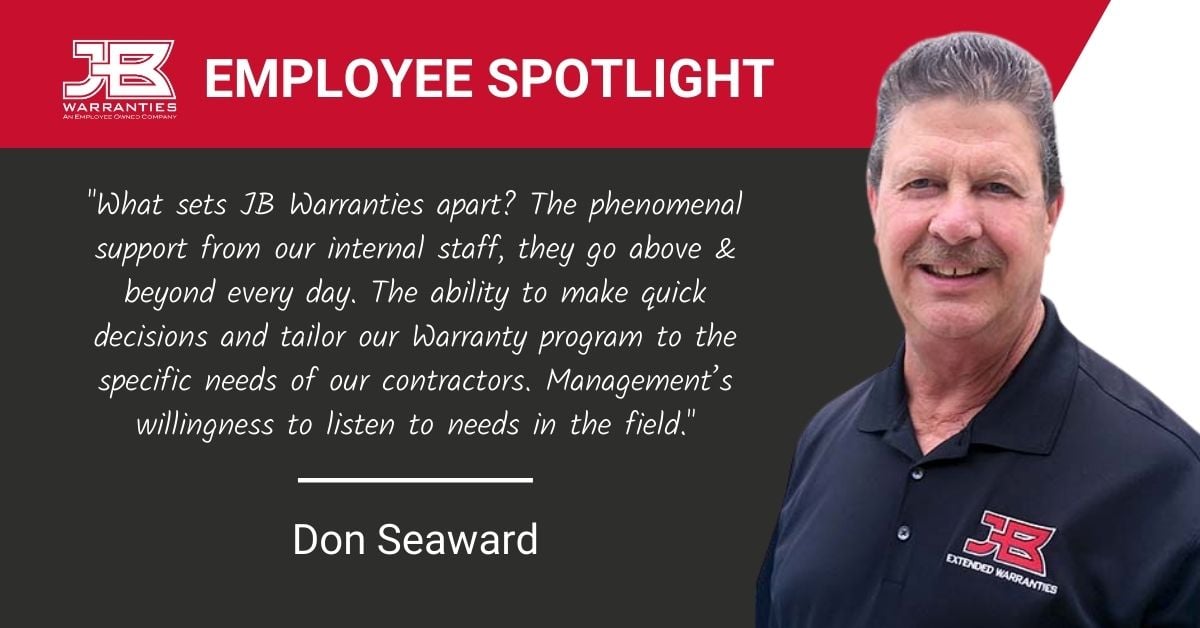 Don Seaward is the longest tenured member of the sales team here at JB Warranties. Don started in his current capacity as the Regional Sales Manager of Florida back in 2008, but his relationship with Mr. Bohannan goes back before then. Since 2008, Don has been the #1 salesman in the company every single year, accounting for a large portion of all JB Warranties business, affirming that Don is one of the foremost experts in HVAC warranty.
Don's attitude and work ethic are unmatched and appreciated by his customers, who constantly commend his performance and dependability. Don has more face to face contact with Florida contractors than anybody in the HVAC industry. Don is a true professional and an absolute pleasure to work with, day in and day out. Over a 30+ year career in the HVAC industry, Don has established his reputation as the go-to guy in extended warranty to Florida contractors of every size.
Thank you, Don, on behalf of everyone here at JB Warranties, for all you do and have done to help us get to where we are.
Getting to know Don
What is your position at JB Warranties?
Regional Sales Manager – Florida
How long have you worked at JB Warranties?
Technically at JB Warranties since 2008. However, I worked for Jeff Bohannan prior to that.
Describe yourself in 3 words.
Honest, trustworthy, & compassionate.
Name one thing on your bucket list.
Mastering the piano.
What are a few fun facts you'd like to share about yourself?
I'm the ultimate jokester, I always have a line of BS, I'm a bit germophobic, and I love to eat!
What do you believe sets JB Warranties apart?
The phenomenal support from our internal staff, they go above & beyond every day. The ability to make quick decisions and tailor our Warranty program to the specific needs of our contractors. Management's willingness to listen to needs in the field.