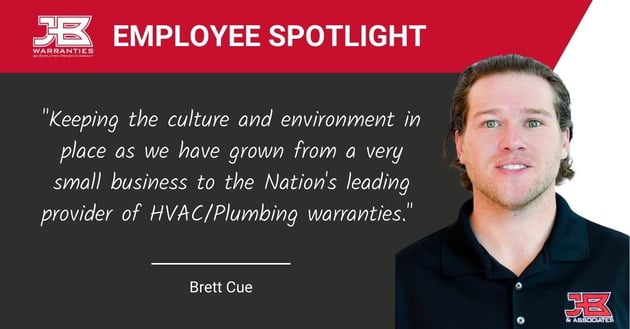 Brett Cue joined the JB Warranties team in 2013 as an inside sales/ customer service representative. In 2014, Brett was promoted to a full-time sales role as a Territory Manager and relocated out west to support the expansion into the Arizona market. Riding the success of the Arizona expansion, Brett expanded his footprint again into Oregon and Washington in 2015-2016.
After generating interest in the California market in 2017, Brett was again promoted to Regional Sales Manager: West Coast, the role he is in currently. Brett oversees 4 Territory Managers across 11 states with responsibilities of millions of dollars in warranty sales annually. As one of the tenured members of the sales team, Brett has done an amazing job of establishing himself as a go-to warranty expert in the industry.
Thanks for all of your hard work, Brett!
Getting to know Brett
What is your position at JB Warranties?
Regional Sales Manager, West Coast
How long have you worked at JB Warranties?
Since July of 2013
Describe yourself in 3 words.
Ambitious. Reliable. Outdoorsman.
Name one thing on your bucket list.
Own a large ranch and farm -- run some horses and buffalo. 🐎 🐃
What are a few fun facts you'd like to share about yourself?
I have tried a lot of strange foods, most of them were pretty good. The ones I'd eat again - venison heart ceviche and sweetbreads. The ones I'd pass on - haggis or rattlesnake.
What do you believe sets JB Warranties apart?
Being able to keep the culture and environment in place as we have grown from a very small business to the Nation's leading provider of HVAC/Plumbing warranties. I am happy to be a part of it.