Bethany joined the claims department in October of 2018. This was a period of rapid growth for the company and for the claims department in particular. In less than two years, Bethany has shown that she is a fast learner and willing to roll up her sleeves and do the work that is required of a claims adjuster at JBW.
Since 2018, Bethany has adjusted over 7,600 claims – averaging 370 per month. Bethany is always willing to help out and takes initiative to take on more work than is asked of her and continues to be punctual and dependable.
In her nearly two years at JBW, Bethany has become comfortable talking to and assisting our customers with their needs. Bethany is an asset to the JBW family and a valued member of the claims department.
Thank you Bethany for your hard work and dedication to the company.
---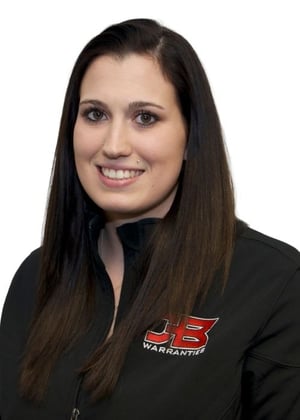 Getting to know Bethany
What is your position at JB Warranties?
Claims Adjuster
How long have you worked at JB Warranties?
Since December 2018 so nearly 2 years
Describe yourself in 3 words.
Ambitious, Dependable, Independent
Name one thing on your bucket list.
Travel to Bora Bora.
Here are a few fun facts about Bethany.
I am Dog Lover.
I love wakeboarding/wakesurfing.
I love traveling and trying new things.
I love to do woodwork.
What do you believe sets JB Warranties apart?
Ever since I accepted the opportunity to work at JBW, it feels like I'm not even going to work. Being surrounded by my coworkers has become more like being surrounded by my family. The job is more like a challenging sense of what's next. The managers engage with us and make us feel like we matter. Doing group activities and making us feel involved with each other plays a big part in the culture and the kind of strong family we have here. The appreciation, recognition and thoughtfulness of this company is unlike any job I've ever had before and I honestly feel like it is an honor to work here and to have been given this opportunity.