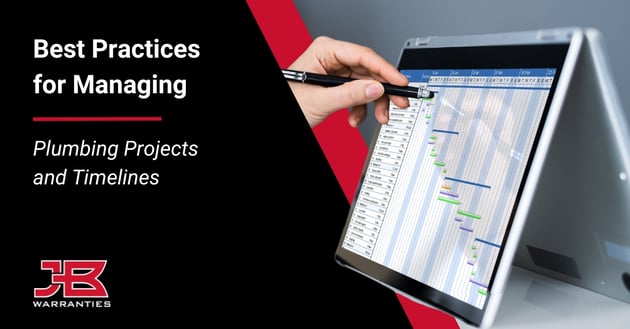 Whether it's a new residential development, an under-construction commercial storefront, or even an old-fashioned property flip, all major plumbing projects share one thing in common: the need for effective project management. Every seasoned contractor will tell you that robust plumbing project management is the key to seamless completion, satisfied customers, and superior contracts.
When it's time to embark on another project — regardless of how big or how small — the importance of effective management of your project cannot be overlooked. Fortunately, you've come to the right place to learn how to master both project and time management! As you prepare both yourself and your team for the jobs ahead, keep these best management practices in mind.
Why Effective Plumbing Project Management is Essential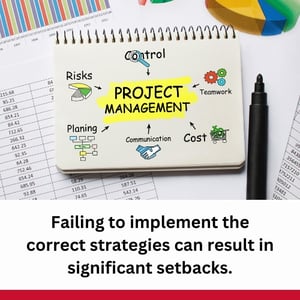 It is crucial for plumbing contractors to practice effective project management to maintain a strong rate of customer satisfaction by meeting their specified deadlines. Failing to implement the correct strategies can result in significant setbacks that can not only negatively impact client reviews and general opinions of the company but also potentially result in a loss of revenue for your plumbing company.
With poor plumbing project management, contractors can quickly face what at first seems to be just a few minor setbacks. However, minor complications (such as a lack of materials or proper labor) can ultimately trigger a domino effect that results in far larger operational headaches later on. From establishing your project scope to ensuring team and customer communication is up to par, effective project management will be necessary for contractors who desire long-term growth and success.
5 Best Practices for Managing Plumbing Projects and Timelines
It's no secret that adequate planning and preparation is a must-have for any contract; however, it's a bit less obvious how to implement proper management and timelines for upcoming projects. When looking to enhance your plumbing project management efforts, consider these top five best practices to support streamlined job completion and top-tier customer satisfaction.
1. Establish a Clear Project Scope
Prior to even beginning work on a new customer request, you must begin by establishing a clear scope for each project. The project scope will be used to help guide you and your team through the overall project objective by laying out the budget, material expenses, labor costs, and permit requirements necessary for successful job completion.
Project scopes are also used by clients as a resource to better comprehend the estimated timeline of the project and the breakdown of the expenses used to produce the overall estimate. As such, remember it's important to always remain honest with customers when laying out costs and timelines. Be sure to set only realistic customer goals and expectations to avoid any frustrations or negative opinions later on.
2. Set Reasonable Deadlines (with Wiggle Room)
Downfalls contractors often face is setting risky deadlines. While the goal is to always impress the customer and exceed their expectations, that simply cannot be achieved by using unrealistic time frames for you and your team. Unreasonable deadlines not only run the chance of a dissatisfied customer in the event of delays but also put an unfair level of pressure and time constraints on your team that can impact overall quality and performance.
When constructing upcoming timelines, a best practice is to schedule a bit of extra working time beyond what you know you require. From changes in labor needs to unexpected necessary materials, you may also want to provide a bit of wiggle room in your overall project budget in the event of any setbacks that require more spending.
3. Construct the Perfect Team
A key component of effectively overseeing a project is securing the necessary amount of labor and specialty assistance to get the job done. From day one of a new plumbing project, failing to assemble a substantial team to meet project demands will quickly result in timeline constraints that not only impact employee performance but also weigh on customer and employee satisfaction.
With the size of plumbing projects varying from job to job, it's crucial to calculate the exact amount of labor you'll require over the entirety of the project timeline for each project scope. For large-scale projects (such as new residential construction plumbing), you may also need to consider bringing on the assistance of outside professionals, such as electricians, sewer experts, irrigation professionals, or even additional contracted plumbers, to not place too much strain on your team.
4. Utilize Project Management Tools
Even at the start of a big project, you're already more than likely juggling many other timelines and customer demands that can make simple plumbing project management quite tricky. Fortunately, with the help of field service management software, you can receive a heightened sense of visibility across your entire operation while also being able to better track individual project progress.
With immediate access to project management capabilities, field service management software acts as a sort of control board for each project. Employee scheduling, customer and technician communication, inventory management, and task tracking are some of the many capabilities that are supplied by field service management software to elevate and simplify the process.
5. Practice Thorough, Team-Wide Communication
From following up with customer requests to guiding technicians' work, practicing effective communication across each of your projects is key to maintaining productivity and satisfaction. So, it goes without saying that failing to encourage thorough communication across your team can also result in high-priority project needs falling through the cracks and causing potential delays.
Failure to communicate project concerns, updates, and approvals with customers can also throw off your project timeline and fuel major setbacks that can create customer frustrations and negative opinions of your company. To help streamline communication across the board, a good best practice would be to establish a project manager who acts as sort of a liaison between the project and the accompanying contractors, employees, and customers.
Protect Your Plumbing Projects with JB Warranties
Now that you have your plumbing project management approach a bit more fine-tuned, you can expect more efficient job completion and customer satisfaction each step of the way. If your project includes the installation of new plumbing equipment, such as a new water heater, be sure to offer customers a JB Warranties' extended warranty for superior peace of mind.
Here at JB Warranties, our plans cover all of today's top plumbing brands and offer a fast and easy claims process to ensure your customers are covered in the event of unexpected system troubles. Contact JB Warranties today to learn more about how our Premium Protection Plan can elevate your customer experience — even once projects are completed!
Kevin Thornton
VP & GM, Dealer Business Services Division