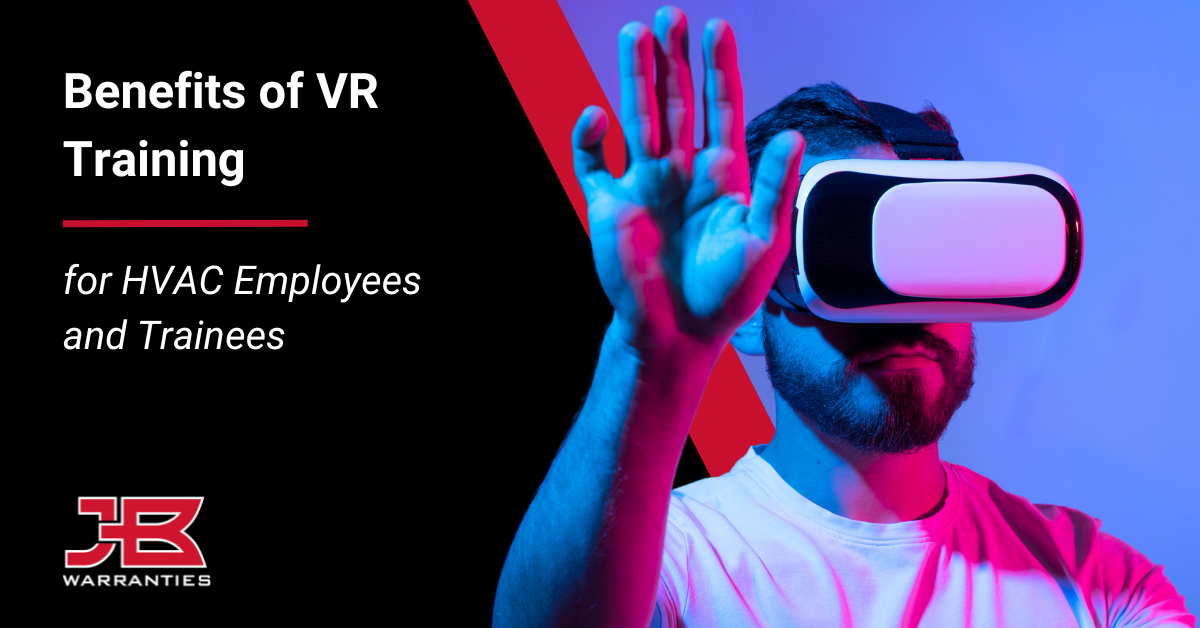 In today's budding era of advanced technology, the conversation of virtual reality (VR) has made its way into countless industries. From personal entertainment to advanced offline and online training solutions, there is certainly no shortfall of opportunities VR technology seems to offer society. But did you know that VR solutions even offer expansive opportunities for those in the HVAC workforce?
With the HVAC industry continuing to battle labor shortages alongside many other trade industries, business owners require solutions to help new technicians streamline their education and practice their skills in a safe environment. Keep reading to learn more about the rise of virtual reality training technology in the HVAC industry, plus the top benefits contractors can reap by adopting these solutions.
What Exactly is Virtual Reality?
Generally speaking, virtual reality (VR) is a combination of computer-generated three-dimensional (3D) simulations and near-eye displays that offer interactive and explorative capabilities to users. The immersive functionality of various VR solutions range widely, from 3D simulations that users can only view to fully immersive settings where users can hear, explore, and interact in-depth.
More basic virtual solutions often require a normal laptop or computer to access VR environments; however, fully immersive VR settings often necessitate the use of specialized equipment, such as headsets and controllers, for complete functionality. Needless to say, the versatility of VR technology has allowed many industries to adopt solutions that can be used to enhance their operations.
The Rise of Virtual Reality Training in the HVAC Industry
In 2021, the VR training market was already valued at a strong $4.6 billion. Nonetheless, the VR training market is expected to continue growing at an impressive compound annual growth rate (CAGR) of 41.2% to reach a massive market value of $142.1 billion by 2031. An increase in VR training interest comes in part of countless industries recognizing the true power of VR learning.
Regarding HVAC VR training, this could not be any more true.
Nationwide, numerous vocational trade schools, including the popular Virginia Technical Academy, have begun to weave VR solutions into their everyday curriculum. With HVAC VR training adoption on the rise, students have gained stronger skill retention due to the realistic and highly accurate hands-on training, as well as the robust collection of HVAC focuses the training modules contain.
Interplay Learning, the leading HVAC VR training platform on the market, recently made Inc.'s 2022 Best in Business List thanks to its pivotal contributions to VR training development. Since Interplay's inception in 2016, thousands of HVAC, plumbing, and electrical technicians nationwide have obtained necessary certifications, accreditations, and continuing education credits via VR learning.
Top Benefits of HVAC VR Training for Employees and Trainees
Whether you're looking to streamline skill development for newly acquired apprentices or seeking continuing education opportunities for your veteran team members, HVAC VR training may be the answer. Check out the top benefits of incorporating HVAC VR technology into your training efforts.
Save Considerable Time and Money
Many HVAC business owners and contractors may hesitate to provide staff with training opportunities out of concern for the related costs and time constraints. Luckily, with a reliable HVAC VR training platform, technicians can receive robust virtual hands-on training without the need to invest in physical training materials, HVAC training equipment, and outside educators. They will experience an immersive environment for their training.
Contractors can lose out on valuable time when having to schedule and conduct ride-alongs, especially when working with apprentices. While real-world instruction is crucial for crafting quality customer service skills, the frequency at which training must be completed can be reduced through HVAC VR training courses that trainees can navigate on their own time.
Access a Countless of HVAC Specialties Instantly
One of the luxuries of HVAC virtual training programs is having on-demand access to countless courses covering a complex variety of specialties and skill levels. Rather than waiting around for certain real-world examples to arise, HVAC VR learning can ready technicians for specific requests way before they actually face them while out in the field or on service calls.
From residential to commercial work, many HVAC VR classrooms provide a variety of industry focuses for employees to enhance current skill sets, drive productivity, and boost customer satisfaction. Airflow testing, PTAC maintenance, furnace troubleshooting, and combustion analysis are just some of the hundreds of specialized HVAC VR courses Interplay Learning offers alone.
Fully Customizable for Each Technician
If you're responsible for managing an HVAC team, you already understand just how much skill sets and experience can vary from technician to technician. With the help of HVAC VR training, you can help better align your team with one another's capabilities and develop a more reliable workforce by developing simulation training tailored to each technician's specific needs based on various field scenarios.
With access to individualized HVAC VR training, managers can more effectively address skill gaps amongst technicians in a way that does not force workers already familiar with certain skills to repeat the course. And without the need for real-world instruction, employees can address training needs during operational downtime, helping their skills get up to par more quickly.
NATE and Continuing Education Credit Opportunities
From trade school through apprenticeships, HVAC VR is continuously working to prepare professionals for a fruitful career. As such, VR training providers like Interplay Learning have partnered with the North American Technician Excellence (NATE) organization to offer prep courses covering important industry certifications. These courses include prep work for the NATE CHP-5 exam, Ready to Work certification exam, and Low-GWP Refrigerants certification exam.
In addition to budding professionals, HVAC VR training can also help veteran technicians obtain the 16 necessary Continuing Education Units (CEUs) required to NATE recertify every two years. VR continuing education courses cover a wide range of topics, making recertification the perfect time to hone in on new advanced skills and focuses that can advance your team of technicians.
VR Training Considerations for HVAC Companies and Contractors
To get started with HVAC VR training, it's important to explore your provider options as well as compare the offered pricing and course selection. In most cases, you will need to invest in the necessary VR equipment, including computers or tablets, headsets, and controllers. From here, you can invest in a course subscription from providers such as Interplay Learning or Lifeliqe.
After your HVAC VR training has readied your trainees for upcoming service calls, be sure to also equip them with the details they need to successfully sell a JB Warranties Premium Protection Plan. Our industry-preferred extended warranty services cover all major brands and grant customers complete peace of mind that they'll be fully covered in the event of HVAC system troubles.
Contact us today to learn how JB Warranties can help you drive satisfaction and long-term customer relationships!
Taylor Bohannan
Director of Technology at JB Warranties