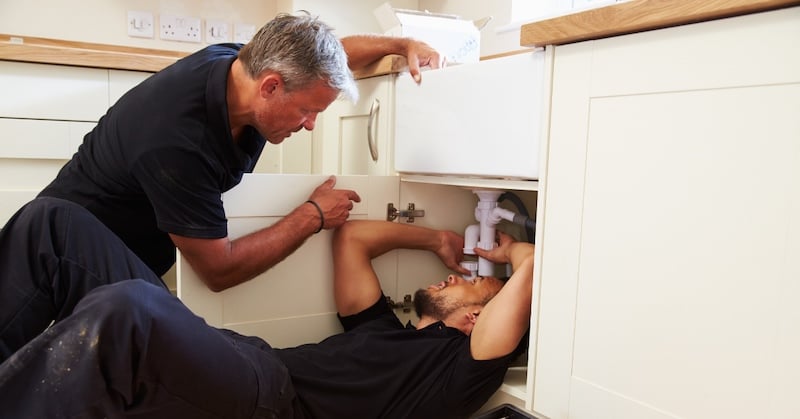 With the labor shortages brought on by the pandemic still plaguing the trade industry (no pun intended), the value of incoming trade professionals is higher than ever before. To connect with up-and-coming talent looking to navigate the industry and carve a new niche for a potential employee in your operation, consider offering an apprenticeship through your trade business.
An apprenticeship is a perfect opportunity for business owners to have the first pick of recent trade school graduates eager to join the labor-lacking trade industry. To ensure you select the most qualified recruit and a potential employee who can thrive in your company culture, take a look at these top apprenticeship interview questions for HVAC and plumbing recruits.
Experience and Personality Interview Questions
As with any interview, whether for an actual employee position or an apprenticeship program, trade business managers will want to open the interview with a set of core questions. These questions help you get to know the interviewee and gather first impressions.
While these may seem like employment-driven questions, it's important to remember that those seeking an apprenticeship may have little to no hands-on experience, and that's okay. Simply use these questions to understand the effort necessary to get the recruit where you want them to be.
1. "Tell me about your previous work experience and why you think our company's apprenticeship program is a good choice for you?"
Open the interview by asking the individual applying for the apprenticeship about their previous trade experience. In this opening conversation, you can learn more about the candidate's hands-on experience, education, and industry certifications. The candidate's experience may be limited, but you can use the details shared to understand the instruction you will need to provide to the potential apprentice.
Furthermore, managers will want to learn upfront why the individual believes your apprenticeship program is a top choice. Be sure to look for enthusiasm in their response and pay close attention to those demonstrating a drive to enhance their problem-solving skills, a desire to learn the ins and outs of customer service in the trade industry, and general excitement to learn.
2. "What are your short- and long-term goals in this industry?"
Many who seek trade industry apprenticeship programs are young and just beginning their career journey. To ensure a potential apprentice is dedicated and eager to start a career in HVAC or plumbing, be sure to ask about their short and long-term goals.
From learning specialty programs as a short-term goal to receiving a master plumber's license as a long-term goal, these answers can help you determine a potential apprentice's level of dedication. These answers can also guide your apprenticeship program and lock in potential future employees.
3. "Can you provide proof of a valid driver's license and agree to a criminal background screening?"
Though you intend to provide expert knowledge and guidance to an upcoming professional, you must protect your business first. Therefore, round out your opening questions by asking if the interviewee currently possesses a valid driver's license and is willing to undergo a criminal background check. This easily accessible info could save you time, money, and even legal or liability concerns in the long run.
Situational and Behavioral Interview Questions
Now that opening interview questions are complete, and you've gotten to know the interviewee a bit, let's dive deeper and ask some behavioral and situational conditions. As with any trade business, an ongoing positive reputation keeps your operation alive, so the last thing you want to do is bring on an apprentice that could jeopardize your customer satisfaction.
Use these questions to understand a potential apprentice's attitude regarding customers, coworkers, and general practices.
1. Using a mock customer scenario, "How would you handle this tough situation to turn it into a positive customer experience?"
In the trade service industry, almost every employee will encounter a situation where a customer has a challenging request or has expressed that they are unhappy with their services. Asking how a recruit would approach and communicate a solution for these situations helps you better understand their commitment to customer service.
Likewise, questions such as this one shine a light on what a potential recruit would do to make the client happy and their level of adaptability for actual events. This question also helps managers determine if there are areas or instructions they may need to focus on with this potential apprentice.
2. Using a mock coworker scenario, "How would you handle this problematic situation involving a coworker?"
In addition to maintaining your external customer reputation, you'll want to ensure your internal operations remain smooth and steady. To create an enjoyable and preferred workplace, employees need to know how to handle internal disputes to avoid operational delays properly.
Using a mock scenario, ask how the interviewee would handle a bad situation with a fellow employee so that you can comprehend their level of emotional intelligence better — and learn if their response to an actual event would be productive rather than aggressive.
3. Using a mock hazard scenario, "How would you safely approach this hazardous situation to avoid injury to yourself or others?"
Employee and customer safety are crucial components of every trade operation. To protect employees, customers, and accompanying property, you'll want to ask a potential apprentice how they would handle a hazardous situation.
To protect all fronts of your business, use a variety of hazardous scenarios, including:
Workplace injury
Customer gas leak
Commercial pipe burst
Proper tool handling
Technical Skills Interview Questions
While apprentices may have minimal hands-on work experience in your specific trade, they must have some basic knowledge to move forward with program enrollment. So close out your apprenticeship interview with these simple technical skills questions.
1. "What tools and equipment are you aware of, and how do you use them?"
From pipe wrenches and toilet snakes to wire cutters and multimeters, there are countless tools an apprentice will encounter while on the job. Though you can't expect them to know the ins and outs of every last one, you'll want to see that the interviewee can demonstrate some basic knowledge regarding the industry.
If desired, try creating some hands-on scenarios where a recruit can demonstrate basic tools usage to help you understand where they may require further guidance.
2. "What's an example of when you used personal knowledge to solve a problem?"
Even without a ton of hands-on professional experience, those entering the trade service should be able to demonstrate problem-solving skills. These problem-solving skills don't have to be specific to your industry but rather an example demonstrating general systematic problem-solving skills. The interviewee's example could be as simple as how to replace and plug a flat tire on a busy highway or about a time he gathered tools and supplies to construct a piece of furniture.
3. "What knowledge of mobile technology and industry software do you have?"
In addition to tools and machinery, field service management solutions and basic mobile technology are musts in the trade industry space. Fortunately, many up-and-coming professionals were born into the age of technology.
However, be sure to inquire about their basic knowledge and comfortability regarding mobile technology communication and field service management solutions to understand better where they could use some guidance.
Begin Successful Apprenticeship Interviews Today
Picking the right recruit for your trade apprenticeship program can be difficult, but it's simpler to home in on the right candidate with these interview questions. From general tool knowledge to customer service skills, these questions can not only secure you an apprentice but also your best employee yet.

Brian Bohannan
Vice President of Sales at JB Warranties