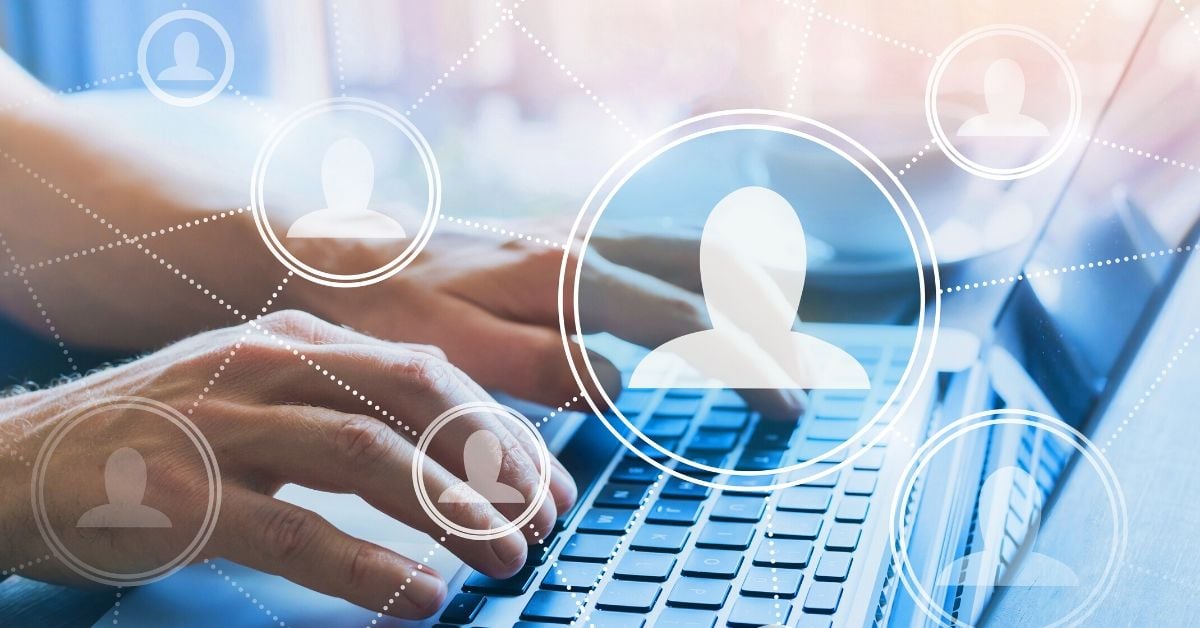 Imagine networking with thousands of professionals in the HVAC industry, all without having to go to a networking event. Luckily for HVAC contractors and plumbing professionals, the internet is a place that provides tips, tricks, and trusted insight from some of the most seasoned specialists in the trade — often free of charge and available at your convenience.
Over the coming months, we'll dedicate one post per month to highlight terrific resources on the web that you may not want to miss. This month we're focussing on forums and groups where you can talk to other people in the trade.
For all things trade talk, Contractor Talk provides professionals of multiple industries the opportunity to connect and share valuable resources with other contractors. For HVAC specific questions and concerns, make your way to the HVAC sub-forum located to the left of the main navigation bar.
Under this sub-forum, contractors routinely post HVAC-specific questions, comments, or anecdotes to an expansive community of professionals. But no need to limit yourself to just the forum. Contractor Talk additionally offers a variety of blog posts, project ideas, and product reviews to help HVAC contractors master their craft.
As one of the largest interactive online communities in the HVAC industry, HVAC Pro Forums shares years of HVAC knowledge from thousands of professionals all in one place. Updated almost every few hours, the timeliness of this resource can't be beaten. Not only can you ensure new threads to catch up on but you can also bet any question you post will be answered swiftly.
As a community exclusively for HVAC professionals, readers can anticipate high-level topics and examinations of the finer points of HVAC technology. With over 5,400 members and 1.4 million messages to date, there's plenty of material for techs, owners, and HVAC enthusiasts to enjoy.
If you aren't familiar with Reddit, here's a reason to give it a shot. The subreddit r/talesfromthetrade (full title -- Tales from people who fix and build the world) is dedicated to anyone who, well, does things to fix and build the world for a living. There are over 1,000 active members in this discussion group from various trades, including plumbing and HVAC contractors, who are trading funny stories, rants, inspiration, and advice.
Fair warning: Reddit communities can sometimes get a little dicey. Based on what's currently posted in r/talesfromthetrade, there are sincere conversations about pricing on pipes, career paths, and people who are looking for practical advice for jobs they're working on. However, Reddit has a bit of reputation as a "wild west" type of platform. You may sometimes run into colorful language and even some people who are not always very friendly depending on where else you go on the platform.
Quora is a platform where people can ask and answer questions on a variety of topics. There are several topics and spaces dedicated to HVAC on Quora. The HVAC Tech topic, with over 700 followers, looks like the one that most closely caters to people in the industry.
In the HVAC Tech topic, you'll find people asking about whether a career as an HVAC tech is a good choice or how does someone get HVAC certification. Other people ask questions about industry trends and new technology. Ask, answer, or just read what other HVAC professionals are talking about.
Bonus: check out the other HVAC-related topics if you're interested in what homeowners may be asking.
5. LinkedIn Groups
There are numerous groups listed on LinkedIn that cater to HVAC and plumbing professionals. In fact, there are too many to name in this blog post. We can provide a few tips, though, on how to pick a good LinkedIn Group that you'll get something out of:
Look at the profiles of those people in your LinkedIn connections. At the bottom of their profile, you'll see the Interests section where you can discover what groups your contacts belong to. Consider joining the ones you see your colleagues listing.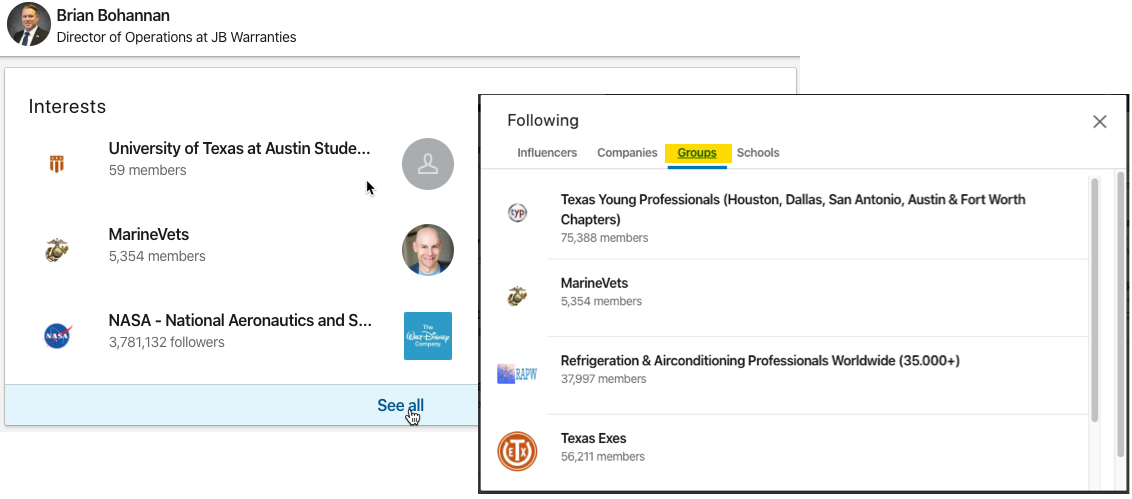 Use the search function to find groups that interest you. Type in your keyword, and select to see Groups that include that keyword.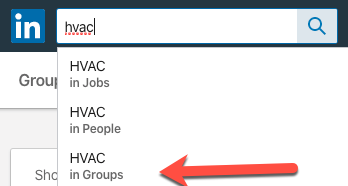 When you finally pick a group, look at the frequency and types of interactions that are happening. Unfortunately, you can't often see this information until you join since many groups require you to request to join. Once you're in, see if people have participated in the past month. What about the month before that? If there's infrequent posting, this may not be a lively group. If people are posting sales messages or links to their website only, this probably won't be a group you'll get a lot out of either.
6. Facebook Groups
Believe it or not, Facebook can be a great place to network with other professionals in your industry. Many groups on LinkedIn often have salespeople creeping in to push an agenda. Facebook groups, on the other hand, are typically made up of people who do the work and want to connect.
To find the right Facebook Group, just type your keyword of choice into the search field and click the Groups tab. You'll see a list of related groups as well as how frequently people participate.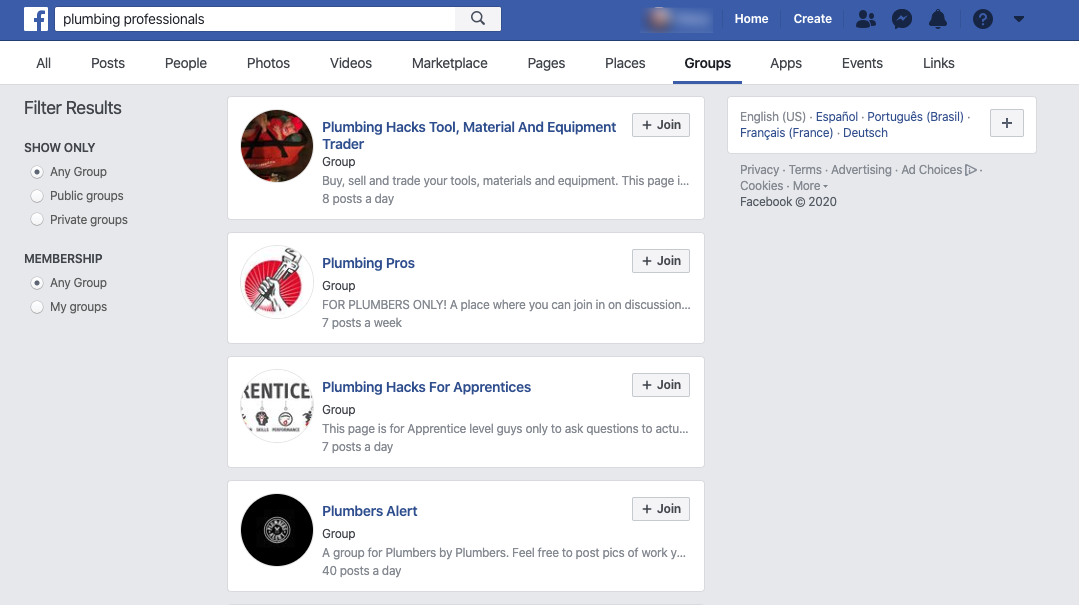 Joining a Larger Contractor Community
The internet is home to countless niches for specialists of all kinds. From HVAC and plumbing students to technicians, owners, and directors, contractors of all kinds can share laughs, inspiration, and commiserate about the biz.

Brian Bohannan
Vice President of Sales at JB Warranties