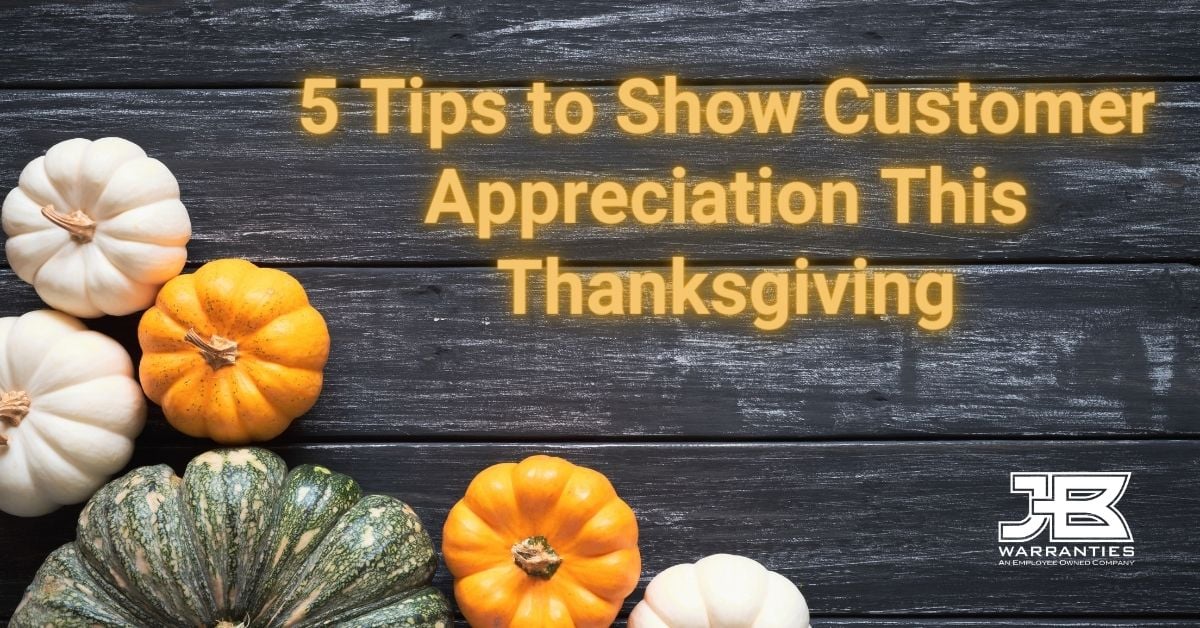 It's no secret that this year has looked and felt different than years prior. From time spent apart from friends and colleagues to financial uncertainty, it's been an uneasy time for businesses and customers alike. With that being said, there's no better time to show your customers your appreciation for their continued support than this upcoming holiday season.
Consider these five methods of showing your customers gratitude this Thanksgiving.
1. Send a Thank You Mailer
"Thank you" mailers are one of the simplest and kindest gestures a business owner can take, plus they're an excellent way to show customer appreciation during the holidays. As a surprise to existing customers and stakeholders, holiday mailers are a reminder of your business's kindness and generosity all year long. These letters should always include personal details, such as handwritten signatures or notes from your technicians, to help give customers a personal sense of appreciation.
Take your appreciation mailers up a notch by including some holiday incentives. Whether you include maintenance coupons or "customer only" deals, slipping in a Thanksgiving special will push customers to return and boost sales — all while showing your clients that you're looking to help save them some coins this holiday season. Be sure to use your mailer as an opportunity to inform customers of any upcoming holiday promotions, giveaways, or get-togethers your company has planned.
2. Give a Personalized Promotional Gift
A small promotional item can encourage customer retention and word-of-mouth referrals, especially if the item is personalized. Consider investing in customized, branded merchandise such as t-shirts, pens, insulated mugs, or even travel-size ice scrapers for company locations that experience harsh winters. While these items are wonderful tokens of your company's appreciation, they also act as a form of free advertising when they're carried around and used.
Remember to hand out these gifts after service calls or office visits to help boost customer satisfaction. Quick and kind gestures like this help encourage customers to post positive reviews on common third-party review sites, helping to promote an overall positive opinion about your company. When possible, consider combining a promotional gift with a thank you mailer to provide customers with multiple ways to brag about your company.
3. Host a Giveaway on Social Media
In today's market, the adoption and upkeep of social media is key to the success of HVAC and plumbing businesses. This Thanksgiving, harness the power of your social media following to host a holiday-inspired HVAC or plumbing giveaway. Choose to offer gifts that work hand-in-hand with your business, such as service vouchers, home improvement gift cards, or smart home appliances.
Use your company's social media pages like Facebook or Twitter to promote your giveaway, and urge followers to repost, like, and share your posts to extend your company's digital reach. Online attention from giveaways increases the chances of existing community members remembering your company when services are needed down the line. Plus, it invites new customers to get in on the action.
4. Offer Thanksgiving Promotional Prices and Bundles
Between the stress of 2020 and dreaded holiday spending, there's no better time to offer promotional pricing and bundles to show clients your appreciation. Your customers might like to clean their air filters or ensure pipe protection before the temperatures plummet, but chances are, they won't want to spend any more money than they need to right now. Offering service and system bundles during these tough times show customers you're not ignorant of their hardships and are thinking of them this holiday season.
To reach all corners of your local market, develop service and system bundles for new customers and upgraded promotions for existing customers. As the season continues to change, consider incorporating system maintenance and inspection promotions to ensure your customers can enjoy their holiday and winter season. Don't forget to advertise any specials on company social media and include any details in your "thank you" mailers and in-person service calls.
5. Partner With Local Business to Provide Perks and Show Appreciation
Thanksgiving is a time to show gratitude by bringing friends and families together. This holiday season show customers you appreciate not just their business but the community you all belong to. Get in contact with local businesses such as bakeries, coffee shops, and even family-owned hardware stores to brainstorm partnerships that offer clients discount incentives and benefit both businesses.
For instance, partner with a local coffee shop to offer each of your customers a free beverage on your behalf. Alternatively, if local COVID-19 regulations allow, consider hosting a Thanksgiving gathering through partnered establishments. Events such as a food drive benefit the greater good of the community, all while establishing your company's positive impact and appreciation for its local people.
Say Thank You This Season
With all of the struggles experienced worldwide this year, take the time to show customers your gratitude. From thank you mailers to community collaborations, there are numerous ways to express thanks for the business they provide you annually. Remember, your company's success wouldn't be possible without the community you operate in, so be sure to show your appreciation this Thanksgiving.

Brian Bohannan
Vice President of Sales at JB Warranties