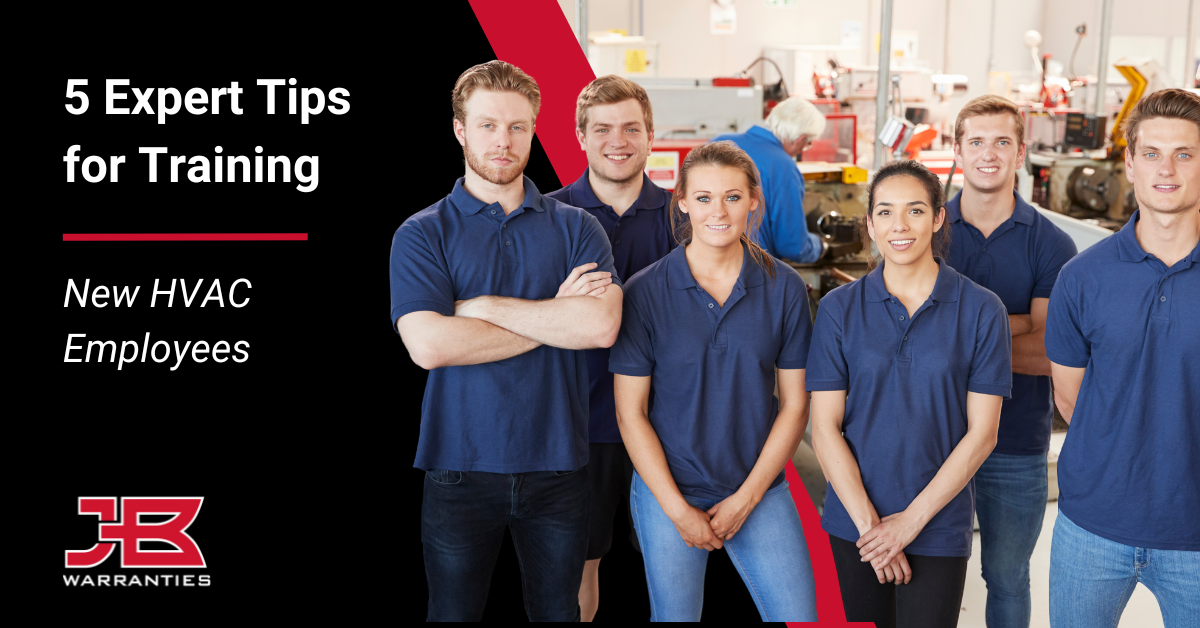 Whether you're welcoming a promising apprentice or an industry veteran to your HVACR team, the premise remains the same: you must properly train all new employees. Failing to implement the correct strategies to align new employees with your existing operations can not only increase costly onboarding delays and skyrocket employee turnover rates but also plummet customer satisfaction.
In other words, a reliable air conditioning systems training program that provides new hires with the company knowledge they need to quickly get in the field, efficiently address customer needs, and support the growth of your operation is a must. Keep reading to discover why employee training is vital to the success of HVACR businesses, along with the top five tips to pass along to your designated HVAC trainer.
Why Employee Training is Vital to HVAC Businesses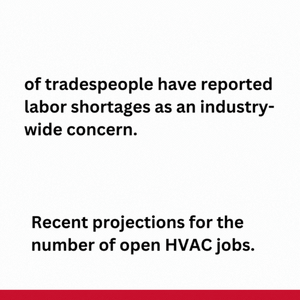 The HVACR industry, alongside many other skilled trades, has been experiencing a shortage of HVAC technicians and employees for quite some time now. In fact, workforce studies have revealed that 77% of tradespeople have reported labor shortages as an industry-wide concern. Recent projections put the number of open HVAC jobs at 80,000—and they're struggling to be filled.
Due to such a high demand for new employees, it's no secret that the HVAC industry has become highly competitive, making it harder than ever for employers to lock in long-term employees. While there are many things HVAC employers can do over time to help keep tech turnover rate low, the first step that needs to be taken is to develop a high-quality employee training protocol.
As the first impression for new hires, employee training paves the way for a long-term professional relationship. From demonstrating a well-organized onboarding process to providing skill-enhancing opportunities, a well-rounded training program encourages new techs to stick around longer and scale with your company, enabling a high level of satisfaction that's evident in customer services. Your training should be extensive and cover multiple topics like indoor units, outdoor units, air handling units, refrigeration units, and much more.
The Top 5 New Hire Tips for HVAC Trainers
Between a solid first impression of your company and an incentive to grow with your team, there's a positive domino effect that high-quality training can have on your business long term. However, an HVAC trainer—whether it's you or a team manager—must understand the best practices to get the job done right the first time. Adhere to these top five tips when bringing on new HVAC hires.
1. Develop a Seamless Onboarding Process
To ward off any unwanted setbacks that can prevent new employees from properly aligning with your company and getting out in the field, it's important to first develop a seamless onboarding process. From day one, HVAC trainers should implement and follow a step-by-step process that welcomes new employees and aids with introducing them to your company's daily workflow.
Components to consider when laying out your onboarding process can include introducing recent hires to existing staff, creating a new employee profile for them in your field service management system, and explaining all company expectations and rules. During this time, it's important to also collect and verify any necessary credentials required for employment, including driver's licenses, HVAC education history, and any necessary safety certifications to ensure industry compliance.
2. Assess Existing Skill Set to Identify Potential Needs
Regardless of prior education and employment history, your HVAC trainer cannot anticipate that a new hire's skillset will immediately match the needs of your company. With many HVACR companies offering specialty services and tons of new hires coming from out of state, it can be wise to follow the initial employee onboarding process with a review of their existing skill set.
Whether it's a written exam or hands-on demonstration, take the time to assess new employees to comprehend their current technical skills regarding topics such as air conditioning and heat pump repair, refrigeration cycle comprehension, use of HVAC gauges and equipment, and system troubleshooting. Doing so will allow you to quickly identify any gaps that could require a bit of side-by-side training or guidance to get new employees up to par with your requirements.
3. Utilize Online Training Services
In addition to offering immediate training, providing ongoing development opportunities to new hires is a great way to lock in long-term techs and enhance your team's overall skill set. This can be done by providing employees access to 100% online HVAC training classrooms, like SkillCat and HVAC School, which offer flexible certification and skill enhancement courses fit for any skill level.
Online services are ideal for covering topics, including advanced electrical systems and controls, EPA 608 certification, and NATE continuing education hours, that allow employees to maintain employment while growing their certifications. Such services not only better equip your team to maintain customer demand but also demonstrate a high level of ongoing employee appreciation.
4. Implement Ride-Along Requirements for Each New Hire
During HVAC employee training, the best way for new hires to gain a comprehension of company expectations and processes (before entering the field by themselves) is by placing them on a ride-along with an HVAC trainer. Whether it's a new administrative team member or HVAC technician, tagging along with existing employees can quickly help align new employees with the flow of your business and learn the general soft skills required by your company.
During this ride-along, new hires will learn how to navigate the field service management software and mobile applications they'll eventually use to manage work orders, access customer contacts, and collect payment. Ride-alongs also serve as an opportunity for new employees to understand customer communication expectations and the upselling of HVAC extended warranty agreements.
5. Encourage Ongoing Collaboration and Communication
It can be quite nerve-wracking as a newly appointed HVAC team member to ask questions or express concerns. Pair this feeling with a workplace that fails to encourage collaboration and communication amongst team members and managers, and you'll likely see not only a high employee turnover rate but also frequent operational setbacks and customer frustrations.
From the start of a new employee's journey, an HVAC trainer must encourage collaboration amongst new and existing employees to help streamline problem-solving and maintain smooth operations. Likewise, be sure to reassure new hires that it's okay to communicate all concerns and questions to managers. This reassurance can help to mitigate any employee, customer, or company issues that may impact productivity and satisfaction.
Equip New HVAC Hires with JB Warranties' Extended Warranty Services
Once your HVAC trainer and their new hires have wrapped up the onboarding and training process, your technicians will be ready to head out into the field and take work orders of their own. But before heading out, be sure to also equip them with all the necessary extended warranty details they can use to upsell and enhance customer protections—like JB Warranties!
JB Warranties offers industry-leading extended warranty services that cover all major HVAC and plumbing brands. Purchase a Premium Protection Plan™and manage claims directly through our easy-to-use online platform that promises reimbursement in 30 days or less. To learn how JB Warranties' extended warranty services can benefit your business, get in contact with us today!

Jenna Ochoa
Vice President - Claims, JB Warranties