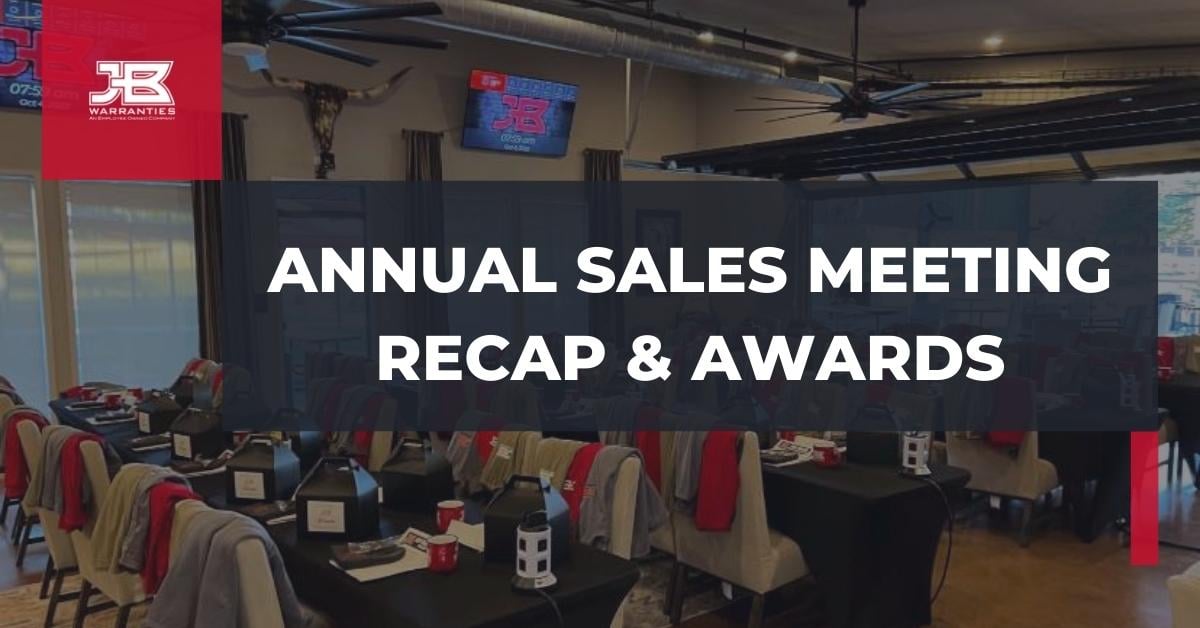 The first week of October, we had our annual sales meetings. We bring everyone to our headquarters in Texas each year and get together to learn, connect, and grow as a sales team. And every year, it seems to get better and better.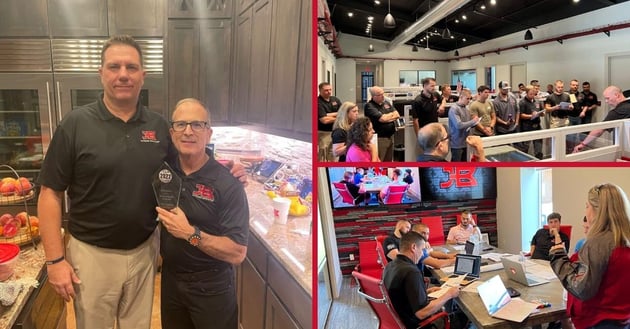 Our team is our priority, and we built the grounds at our main office with our family in mind. We've got plenty of indoor and outdoor areas for employees to enjoy themselves. Everyone got to enjoy the new office and the family-oriented space we've created for our employees.
We got to learn from each other and had other individuals come in to share their industry expertise with the team. The week was amazing, and we look forward to next year!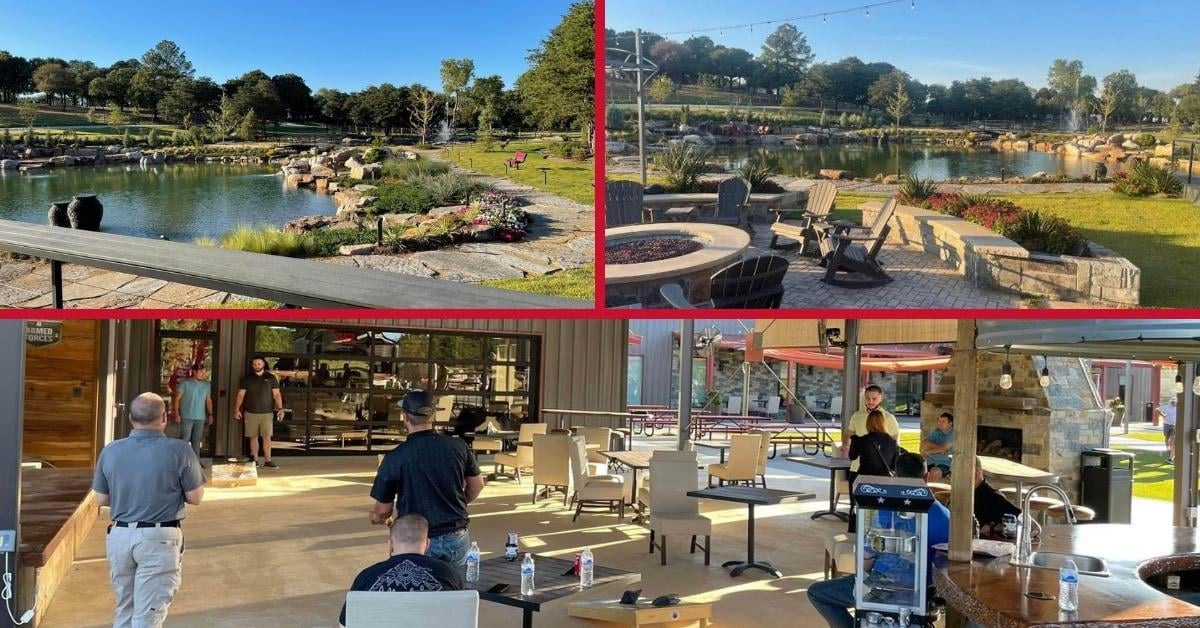 AWARDS
We are extremely proud of the team we have at JB Warranties. We believe we have the best in the industry. So, we wanted to express how much we appreciate them by giving out some awards at the meeting. Here are some of the awards that took place.
⭐ Employee of the Year : Maritza Cabrera
⭐ Sales person of the Year: Houstin Engstrom
⭐ Territory manager of the Year: Mike Gianpetro
⭐ 10 Year Service Award: Risan Bagja
⭐ 5 Year Service Award: Whitney Ryan
⭐ Best Newcomer of the year: Tate Nivens
⭐ Insider of the Year: Kayley Schwanebeck

What our employees had to say about the week
Here's what a few of our employees had to say about this year's meetings.
Don Napier said:
"Spent the week down in Texas for the
JB Warranties
Annual Sales Meeting! It was an incredible week that really left me at a loss for words each day as I looked out over our current family of employees. Five years ago when I joined the company, we had about 15 of us that sat around a conference table for our meeting and this year it was nearly 60 people!
Obviously, sales success drives that type of growth, but it's not driven by us just getting people to buy a bunch of stuff
that we want them to buy. It's driven by providing solutions and value to partners that you genuinely care about. They're not just a customer or a client; they're partners that are served by each and every employee here in a variety of roles.
The biggest impact of the week, though, was how much potential I saw on top of where we've already gone. It's hard to fathom. Not just business potential, but the potential of over 60 employees/families being supported by a company that is employee-owned and fully encourages the type of balance that is necessary to sustain yourself and be fulfilled long term. Working hard, being extremely successful, and being present for your family are not mutually exclusive things when they are genuinely cared about by your company.
From someone who really tries to live their life simply by trying to find a way to make something a little bit better each day for someone, I find myself eternally grateful and blessed to be on this type of team. Like I said, I was at a loss for words as my brain tried to analyze just how much potential and impact this company was going to have on so many lives.
I hope you're as fulfilled as I feel today. If you're not, I encourage to make yourself a priority and find that passion. You deserve it, and your family deserves it!"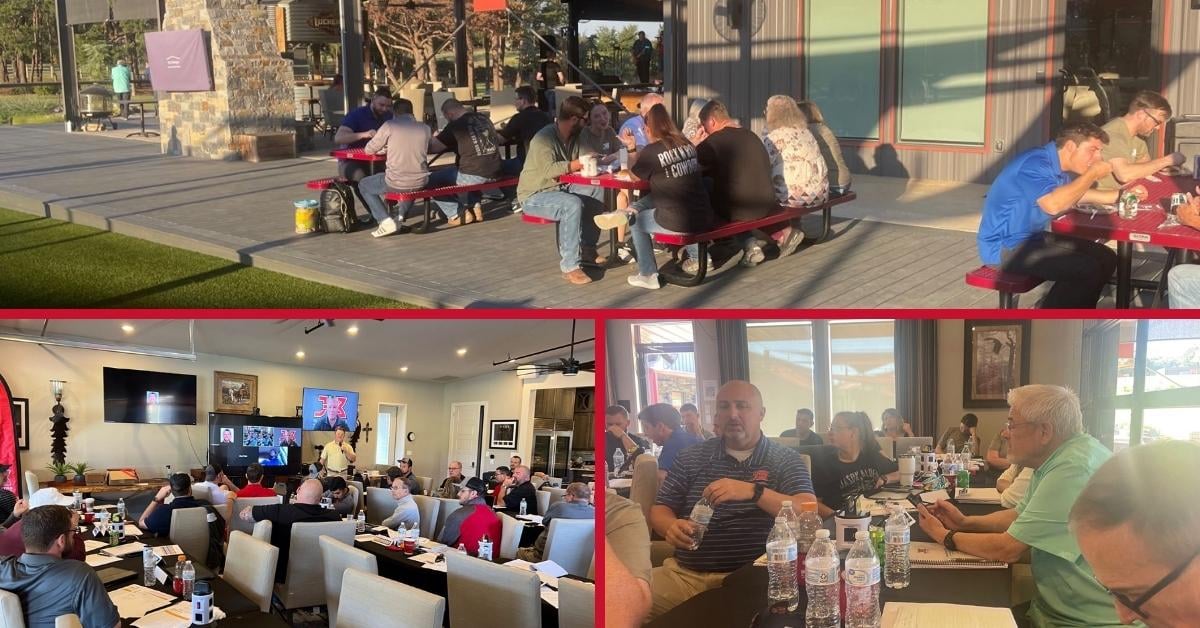 Tate Nivens said: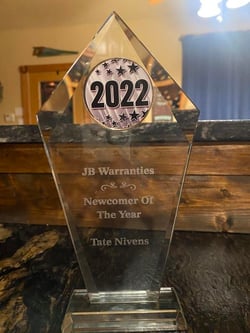 "What a freaking honor… I can't believe I'm lucky enough to work for a company who not only values their customers but also their employees and looks for the opportunities to invest in their futures. I strive to live by their testament of doing good by others and having that returned to you. Being presented with the first ever "Newcomer Of The Year" award is not taken lightly and there were so many other people that I felt were more deserving.
I was told recently by a friend
that I need to be better about accepting others love and praise and just say "Thank you" sometimes. That is not a natural reaction for me, but in this instance I was humbled and remembered that. Tonight I want to make it a point to say !!!Thank You!!!! to my
JB Warranties
Family, contractor and distributor partners, my boss and "Employee of the Year" recipient
Maritza Cabrera
, and to all my family and friends who have supported me through the last year of change and perseverance.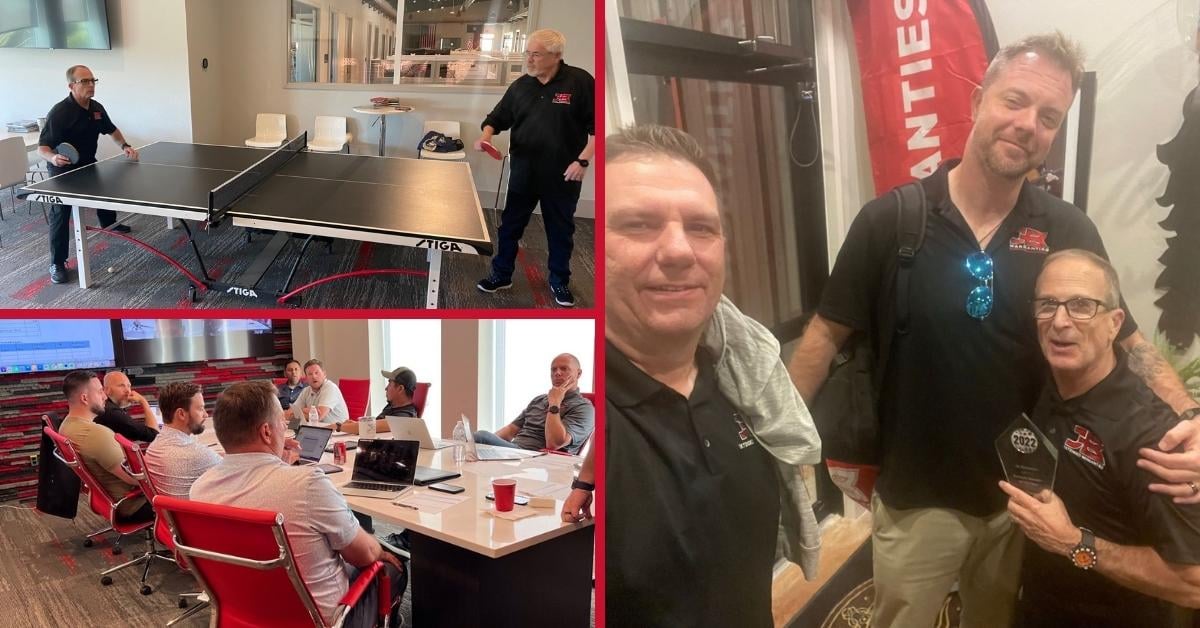 I have a fire lit under me and am looking forward to what the future may hold with so much opportunity in front of me. I feel like the most grateful girl in the world tonight
"