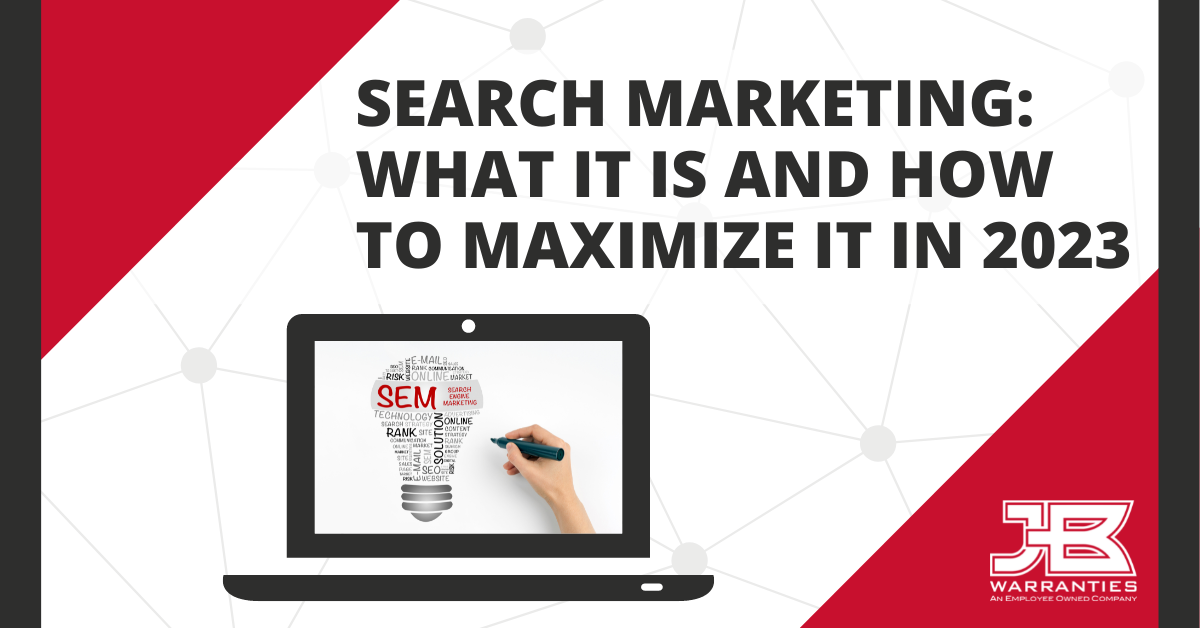 Online searches serve as the leading method of connecting customers to HVAC and plumbing businesses, and in 2023, that's not projected to change. With most home and business owners heading to search engines like Google to find a service provider, it's never been more important to understand search engine marketing (SEM) to maximize lead generation all year.
Yet, between comprehending both organic and paid marketing efforts and learning multiple tactics to drive leads, the topic of search marketing can be overwhelming when first getting started. Fortunately, we've got you covered with a guide to search marketing basics. Here's what you need to know to increase lead generation through search engine marketing in 2023.
What is SEM?
Search engine marketing (SEM) is leveraging search engines like Google or Bing to drive valuable traffic to a website. SEM strategies help HVAC and plumbing companies capture leads at the top of the sales funnel or leads who recognize they need a service but have yet to settle on a specific provider. There are two categories of search marketing: organic SEM and paid SEM.
Organic SEM relies on specific ranking factors to influence placements on search engine results pages (SERPs), whereas paid SEM uses advertising dollars to place a webpage at the top of SERPs.
Organic SEM involves optimizing your website with the necessary factors — proper formatting, internal links, relevant keywords, and more — for specific web pages to appear in search results for certain queries. For instance, utilizing phrases like "plumbing company in Miami" or "top HVAC contractor in Denver" within headings, titles, and paragraphs helps indicate to search engines that your website represents a business that provides the types of services for which people are searching.
Paid SEM, on the other hand, requires that you allocate ad dollars to boosting the performance of your website on search engine result pages (SERPs). Generally, paid search engine marketing is pay-per-click (PPC) advertising for specific queries. Then, when potential customers type the targeted query into a search engine, your advertisement will populate above or below organic search results, increasing the likelihood of that potential customer becoming a new lead.
How Can Search Engines Support Strong Lead Generation?
Organic and paid search engine marketing help support strong lead-generation efforts. In particular, SEM increases online visibility by boosting your company's listing and web pages to appear more frequently (and higher) in search results. Better visibility leads to heightened brand awareness and easier discoverability, which supports more robust lead generation and brand trust.
In addition to increasing brand awareness, SEM can provide an instant solution for users needing your services. For example, customers burdened by unexpected system breakdowns and performance issues send them on the hunt for a local professional. With SEM tactics, your company's business listing has an increased chance of displaying as a top result for those searching for local services, instantly providing customers with important contact and website details.
How Does SEM Impact Your HVAC or Plumbing Business?
Well-executed SEM tactics can help HVAC and plumbing businesses effectively cut through the noise from the competition to reach consumers. SEM best practices boost overall visibility, assisting companies to stand out on SERPs, including other local service providers, especially national franchises. A robust presence on relevant SERPs also contributes to a strong brand identity and position as an industry leader.
Top 3 Search Marketing Tactics Business Owners Need in 2023
When looking to increase potential leads through search engine marketing, there are multiple approaches to help get the job done. In addition to your current digital marketing strategies, consider these three organic and paid SEM practices to discover which options are best for you.
1. Search Engine Optimization (SEO)
Search engine optimization is an organic process to fine-tune your company website such that desired web pages appear on page one of relevant SERPs. SEO involves four primary components: keyword research to guide your content; on-page SEO to develop quality content; off-page SEO (which includes local SEO) to build credibility among search engines; and technical SEO to ensure content is discoverable.
Search engines like Google will utilize a variety of ranking factors to determine the position of web pages, like blogs and service pages, on SERPs. To increase SEO effectiveness, businesses should structure web pages with relevant keywords (both primary keywords and related keywords) and proper formatting, including headings and subheadings, images with alt text, and internal links to related pages. Your website must also be technically sound, meaning pages load quickly and optimize for mobile viewing.
2. Pay-Per-Click Ads
Pay-per-click (PPC) ads require an advertiser to pay each time a user clicks on their ad. When setting up paid search ads, trade companies bid on specific queries such as "pipe repair" or "top water heater warranty." These PPC ads typically point traffic to a dedicated lead generation page (landing page) to learn more. Paid search ads can also show only to people in your service area.
Landing pages for trade businesses often include additional service details and a contact form. Building a dedicated landing page for each PPC ad is wise so you don't send a user who clicked on a "pipe repair" ad to a general homepage or unrelated service page. However, businesses can direct traffic from an ad to a well-performing service page with similar content.
3. Google Local Service Ads
Google Local Services ads are a paid SEM tactic that connects potential leads searching for HVAC or plumbing services with a company in their area. A local service ad will appear at the top of Google SERPs, allowing users to swiftly click on the ad and contact your company via various methods, including call and messenger requests.
To maintain a strong ad ranking, HVAC and plumbing service providers need to respond to Google ad service messaging consistently and promptly. Likewise, HVAC and plumbing companies can become "Google Screened" or "Google Guaranteed" to earn a Google listing badge demonstrating extra credibility and providing leads with higher booking confidence.
Navigate Your SEM Tactics with Confidence All 2023
Across the many marketing avenues HVAC and plumbing companies can take to enhance lead generation and drive overall company growth, search engine marketing (SEM) should be high on the list. With most consumers turning to search engines to book local services, be sure to investigate each of these SEM tactics to understand which will work best for your business.
Once you successfully secure new leads, it's essential to have a quality extended-warranty service on hand to help encourage a long-term customer relationship. From speedy labor reimbursements to expansive equipment coverage, contact JB Warranties today to learn how our Premium Protection Plan can help you develop a strong, reliable, and recurring customer base all 2023.

Matt Cosby
Director of Marketing