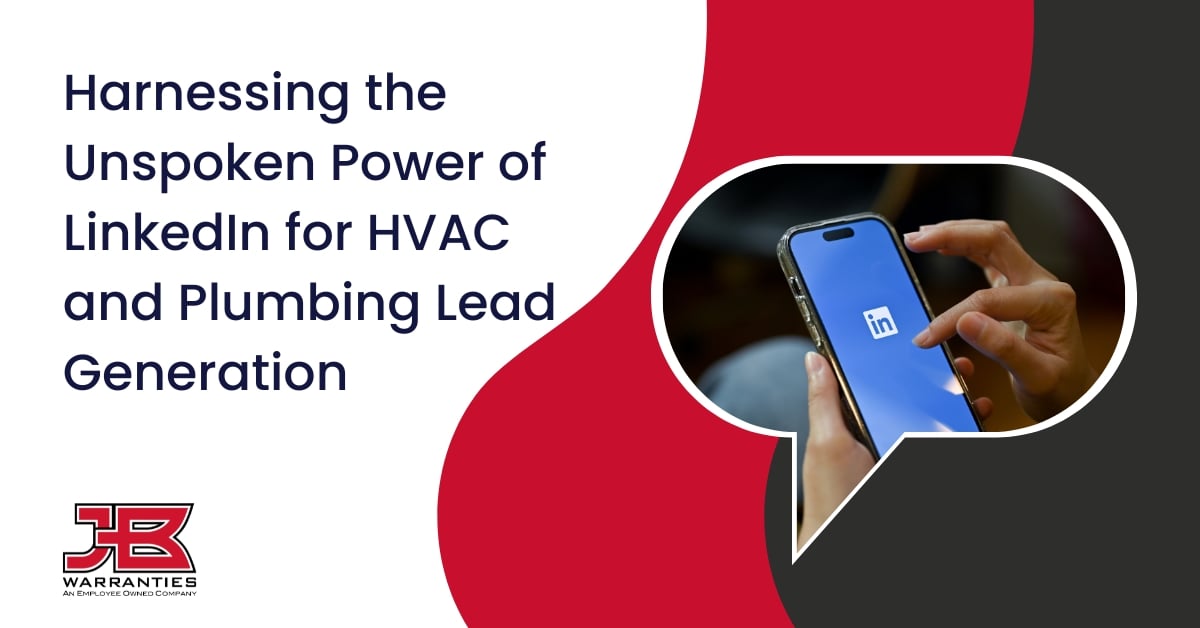 When leveraging social media for lead generation when it comes to the plumbing and HVAC industries, it's common to see the same go-to networks, like Facebook, Twitter, and Instagram, as contenders to gain prospects. It's also just as common for LinkedIn — the social media platform geared explicitly toward professionals of all sectors — to be significantly undervalued or entirely left out of the marketing strategy.
Have you ever wondered what unspoken power LinkedIn lead generation can offer HVAC and plumbing companies? Spoiler alert: it's a lot. For HVAC and plumbing contractors looking to enhance their lead generation efforts well into 2023 and beyond, keep reading to learn more about LinkedIn and the four tips you need to know for building a compelling business profile.
What is LinkedIn?
Unlike Facebook and Instagram, LinkedIn is the only social media network specifically geared toward business owners, employers, and professionals. The LinkedIn network features countless industries across various locations around the world. In the United States alone, over 220 million individual members and over 58.4 million companies belong to the LinkedIn network.
Because of this, LinkedIn acts as a powerful lead generation and marketing tool for professionals to facilitate connections amongst other professionals and companies who align with their specific industry. For example, for HVAC and plumbing business owners, the LinkedIn network offers access to contractors, company executives, business managers, and even rising technicians.
Benefits of Using LinkedIn for HVAC and Plumbing Lead Generation
Compared to the many other social channels available, studies have shown that 82% of B2B (business-to-business) marketers have the highest success on LinkedIn for lead generation. In business-to-business marketing, a company markets its products or services to fellow businesses and organizations rather than individual consumers, like independent homeowners.
A typical example of B2B marketing in the HVAC and plumbing indust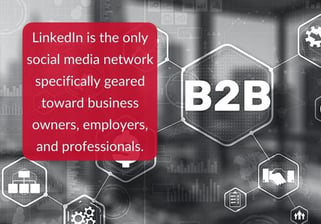 ry is a heating and cooling company that advertises its services to residential contracting businesses. In this scenario, the target audience is not an individual homeowner but the owner of a contracting business. Therefore, a heating and cooling company can leverage LinkedIn to locate leads under this B2B umbrella.
With a LinkedIn profile, HVAC and plumbing professionals can access a sea of information, including potential leads' names, job titles, and operating locations. These details allow professionals to initiate contact with a lead or fine-tune marketing messaging to attract like-minded prospects better. Similarly, LinkedIn allows for in-platform advertising to drive brand awareness and a robust profile to create content that will develop trust in your brand as an industry leader.
And let's not forget B2C (business-to-consumer). LinkedIn isn't just for businesses looking to sell to other businesses. Business professionals are also homeowners. If you're creating awareness on LinkedIn, chances are they will remember seeing your posts or ads on LinkedIn, which can increase your chances of them reaching out to you when their AC breaks down, or they've sprung a leak in their pipes.
Where to Locate Prospective HVAC and Plumbing Leads on LinkedIn
When using LinkedIn for lead generation, HVAC and plumbing professionals typically aren't looking for the familiar household customer. Instead, contractors are often on the hunt for decision-makers at relevant companies, such as general contractors, building management companies, and property developers, who regularly require your type of trade services.
When identifying potential leads, start by conducting a LinkedIn search of professionals and companies that belong to like-minded industries in your area. For LinkedIn profiles that spark your attention, request to be added to their network and provide a basic professional summary in your connection request to help encourage quick and communicative connections. In addition to one-on-one connections, many professional groups on LinkedIn make connecting with industry professionals interesting and easy. Here you can discuss industry topics and gain connections among industry professionals (and potential leads), invite members to follow your business profile, and even gain inspiration for promoted posts and paid advertising.
4 Tips for HVAC and Plumbing LinkedIn Lead Generation Success
When looking to enhance your lead generation success rate on LinkedIn, consider these four tips for building and managing your account on the platform.
1. Develop an Informative Profile
Whether you're developing a personal or a business LinkedIn profile, you must input all the necessary information to supply potential leads with a clear description of your services upfront. You only have a few moments to capture the interest of a LinkedIn user, so be sure to include the following information when customizing your LinkedIn profile for lead generation:
Individual or company name, location, and professional title
Contact information, including phone number, email, and website address
Industry certifications and education credentials
Company awards and notable past projects
General and/or specialty services offered
Industry experience (and names of prior employers for individuals)
Having all these details highlighted on your profile makes it easier for potential clients to locate you on the platform and provides a substantial amount of information that a newfound prospect can use to determine better if you're the best fit for their HVAC or plumbing needs.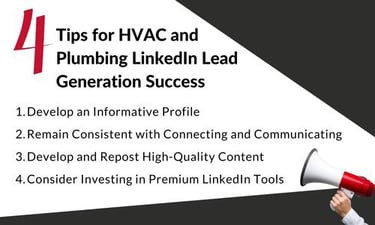 2. Remain Consistent with Connecting and Communicating
When looking to connect with prospective clients, the process can't begin and end with the click of the connect button — if it could, lead generation wouldn't be laborious! Instead, when you've identified a prospect and are ready to connect, be sure to include a short message providing a summary of who you are professionally and why you wish to connect with the individual.
Once a person accepts your connection request, don't hit them up to try and sell them right away. People on LinkedIn don't tend to like that. Look for ways to get your foot in the door with through a personalized message. Check out their posts to see if they've mentioned needing a new HVAC contractor or system, or maybe you noticed their plumbing supplier has gone out of business. Then, put together a personalized message to send them. Be as specific as possible, always follow up, and provide website details for those looking for more.
3. Develop and Repost High-Quality Content
The LinkedIn newsfeed is an excellent place for HVAC and plumbing professionals to share relevant industry topics. Consistently creating and reposting content such as blog posts and video interviews will help spark prospective clients' attention and demonstrate your industry professional knowledge. However, avoid creating content that sounds like a sales pitch, as you'll save this marketing messaging for the private one-on-one conversations you hold with interested leads.
4. Consider Investing in Premium LinkedIn Tools
In addition to your profile's free capabilities, LinkedIn also offers a premium membership for business leaders to help drive more effective lead generation. Premium features include customizable InMail templates to help streamline outreach efforts, expanded search capabilities and alerts to help better locate prospects, and increased profile visibility to access which companies and local professionals are viewing your LinkedIn page.
Get Started with LinkedIn Lead Gen Today
When looking to boost lead generation efforts for your HVAC or plumbing business, don't limit yourself to social media platforms like Facebook and Twitter. Through LinkedIn, trade professionals can connect with local industry experts and fellow business owners to drive long-term partnerships and boost the chances of new projects and referrals. Not sure where to get started? Head to the JB Warranties' Blog for more business marketing tips.

Matt Cosby
Director of Marketing