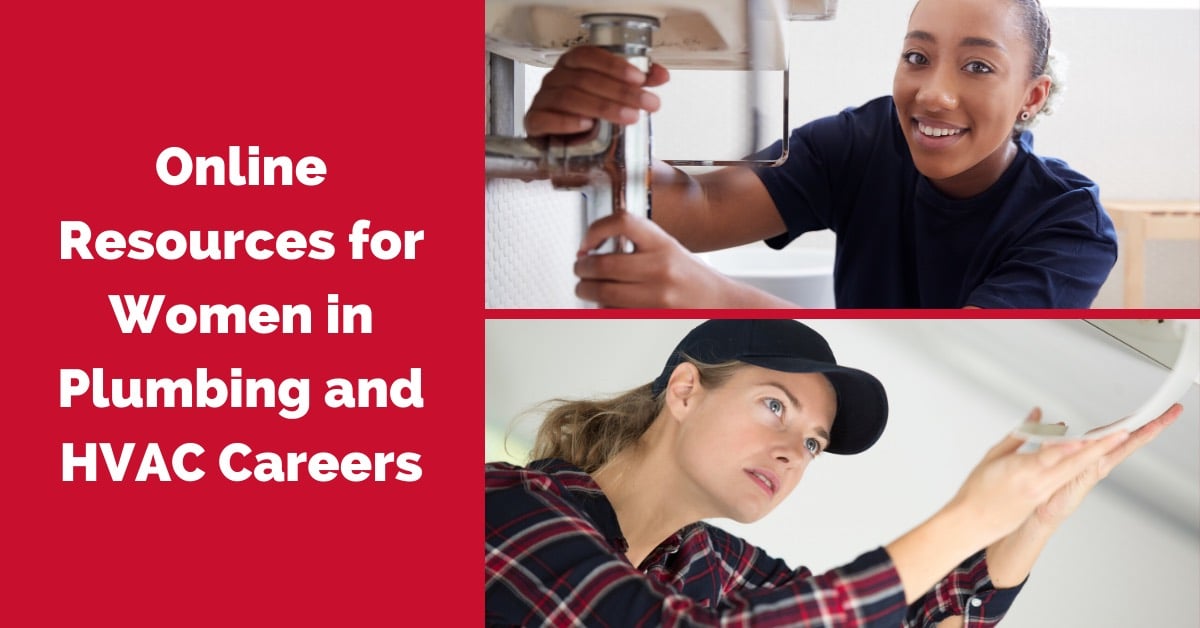 Each March, the U.S. recognizes Women's History Month. Here at JB Warranties, we want to make a point to support women in the industries we serve. We're proud to work with female HVAC and Plumbing contractors, and we appreciate your business.
To celebrate the ladies in HVAC and plumbing, we've put together a list of resources just for you. This isn't an exhaustive list, so we'd love to see your recommendations in the comments section below.
HVAC & Plumbing Career Resources for Women
1. Women in HVACR
Women in HVACR provides women of all ages with mentoring, as well as educational and networking opportunities. Regardless of whether you're already a pro in the field or a newcomer to the HVAC industry, this organization has something to offer ladies in a variety of roles and skill areas from technical/mechanical, to business strategy, to personal branding and networking and more.
HVAC company owners, HVAC technicians, and women in other important functional areas can find valuable information and experiences with the Women in HVACR organization.
2. Confessions of an HVAC Chick
Sometimes women want to know they aren't alone in their day-to-day jobs and the questions and quandaries they face. If you're feeling like the only woman in air conditioning and refrigeration who's ever wondered if there is a better bra to wear while doing HVAC tech work, we've got a blog for you.
Go check out the HVAC Chick category on the Advance Air & Heat Company blog. This section of their blog started when Karen Lamy DeSousa wrote a post called "Confessions of an HVAC Chick."
DeSousa's father started Advance Air & Heat Company, and she now runs it. She is also the 2020 president of Women in HVACR. I'd say she knows a thing or two about being a female in the HVAC business!
Read the HVAC Chick posts for inspiration, commiseration, and maybe even a chuckle or two.
3. Stories of Women Breaking Barriers in Plumbing
Want to discover some stories about women who have paved the way for females working in the trades? These two ladies are ones that you need to know about.
Lillian Ann Baumbach Jacobs became the first U.S. woman to hold a Master Plumbers license in 1951. She definitely had skills, but you'll notice many of her press clippings took a cutesy angle on her story: Miss Becomes a Master, Pretty Plumber, Cutest Master Plumber, and so forth. Do you think the first man to hold a Master Plumbers license got a lot of notice for his looks?
Regardless of what the journalists said, Lillian Ann Baumbach Jacobs helped forge a path for women in plumbing.
Next, you have got to learn about Adrienne Bennett. Bennett became the first African American female Master Plumber in the United States when she was 30. However, she didn't start out with an interest in plumbing.
Bennett aspired to study mechanical engineering, so she applied for an entry-level training program with a Detroit engineering firm. She experienced a racially-charged encounter that shook her so much, she left the program and never attended college.
Fortunately, she met a recruiter from the Mechanical Contractors Association of Detroit during a 1976 election rally for Jimmy Carter. That changed her life.
Her path to Master Plumber was tough -- she faced bullying and harassment along the way -- but her hard work and perseverance helped her become the successful business owner that she is today.
4. r/BlueCollarWomen
Ladies, if you're looking to talk with other women interested in or already working in skilled trades, you should check out the Blue Collar Women community on Reddit (r/BlueCollarWomen).
This forum is a great place to ask questions, give advice, tell stories, trade jokes, or even vent. When you work in a male-dominated industry, sometimes a little online camaraderie with women who have been where you are can help.
5. Various Facebook Groups
There are several groups that come up when you search for groups on Facebook that cater to women in skilled trades. Here are some we've discovered. We can't vouch for all of them -- many require approval to join. So, consider this a list of possibilities to explore.
6. A Leg Up: Tips and Tricks for Women In the Trades
The Pride and a Paycheck e-magazine site caters specifically to women in skilled trades. They have quarterly magazines with articles about women in various careers. Their eBook, A Leg Up: Tips and Tricks for Women In the Trades, offers advice in a variety of areas, including:
Career advice and tips from other women
High-level recommendations about managing your tools
Finding clothes and personal protective equipment that fits
What to do during downtime at work
What to bring for lunch
What Are Your Favorite Online Resources for Women?
As women in the plumbing or the HVAC workforce, you've probably got a few go-to-sources of inspiration, education, and information. Maybe you've even got a few female role models that exhibit the very best skills and traits. We'd love to hear about all of those things in the comments section below.
Thank you for reading, and thank you for making a bold move, ladies, to enter the world of HVAC and plumbing!

Jenna Ochoa
Vice President - Claims, JB Warranties